Antrim, Fermanagh and Tyrone claim McKenna Cup wins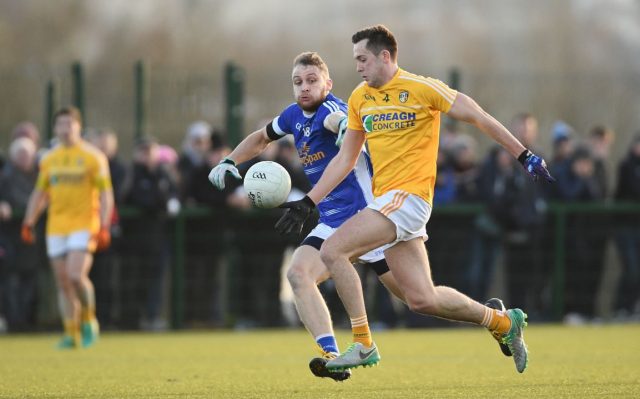 Bank of Ireland Dr McKenna Cup Round 2
Antrim 4-11 Cavan 2-13
Fermanagh 1-10 Queens University 1-09
Tyrone 1-16 St Mary's 1-11
Fermanagh earned a second win under Rory Gallagher beating Queens University at Brewster Park in Enniskillen.
On Wednesday Fermanagh enjoyed a fine victory over Monaghan and they struck a late goal from a penalty to secure the spoils once more.
Seamus Quigley thumped home a 66th minute goal for Fermanagh, who trailed by 1-4 to 0-6 at the break.
Niall Keenan scored a goal for Queens, who were highly competitive throughout an interesting encounter.
McKenna Cup specialists Tyrone defeated St Mary's, Belfast in Coalisland. St Mary's started brightly, but a 22nd minute Ciaran McLaughlin goal edged Tyrone 1-3 to 0-5 ahead in the 22nd minute.
Sigerson Cup holders St Mary's continued to cause problems, but Tiernan McCann's late point proved to be the insurance score for Mickey Harte's outfit.
In Woodlands Antrim overcame Cavan following an eventful game
Paddy McBride, Conor Murray (2), Ryan Murray pounced for Antrim's goals, while Bryan Magee and Niall McKiernan scored majors for the visitors.
The Armagh v Derry, Monaghan v Donegal, and Down v University Ulster matches were all postponed.