The Bank of Ireland Celtic Challenge 2018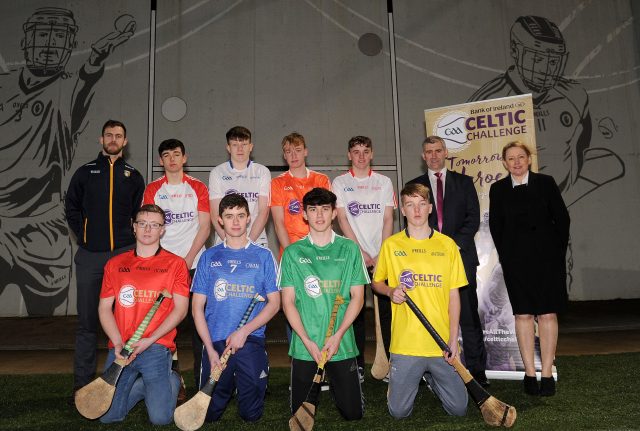 The Bank of Ireland Celtic Challenge is a ground-breaking hurling development competition for 16 and 17-year old hurlers from all 32 Counties. The Ulster launch of the Bank of Ireland Celtic Challenge took place in Tyrone GAA Centre, Garvaghey, last night.
Now in its third year, the competition has gone from strength to strength, and in 2018 a total of 41 teams from all 32 Counites will take part across eight groups that are determined on a geographical and developmental basis. There will be 1,250 players involved in a schedule of 135 matches that take place over an eight-week period. After an initial round robin group phase of matches, teams will be graded on their performance and will then be assigned to one of five Divisions for the Quarter-Finals, Semi-Finals and Finals where again they will compete against teams of a similar level of ability.
All 9 Counties in Ulster will be represented in the competition and will hope to build on the success of 2017, where 5 Ulster teams reached the Finals with Antrim, Down and Tyrone achieving success in their respective Divisions.
In 2018, Antrim, Derry, Down, Armagh, Fermanagh and Tyrone will all compete in Group H during the months of March and April. Meanwhile, Donegal will play against Mayo, Roscommon, Sligo and Galway Tribesmen in Group G and Monaghan and Cavan will go head to head with Leitrim, Longford and Louth in Group F.
The Group Stages for Group H will take place in March and April, while the remaining groups will play in May and June. All teams will be graded and drawn against new opposition for the Quarter-Finals and Semi-Finals. Five Finals will take place on Saturday 30th June in Bord na Móna O'Connor Park, Tullamore.
Oliver Galligan, Vice-Chairperson Ulster GAA, said: "The Bank of Ireland Celtic Challenge has been an outstanding development for the game of hurling in recent years. The best way of nurturing and developing our great game is by playing it. This initiative provides young players from all Counties in Ireland with the opportunity to participate in a competition that affords each team a minimum of five games and the chance to reach a Final."
Paudie O'Neill, Chairperson of the National Hurling Development Committee, noted the benefits of the competition for teams from Ulster in particular: "Last year, five Ulster teams reached the Finals: Antrim (Corn John Scott); Down (Corn William Robinson); Armagh (Corn Michael Feery); Tyrone and Fermanagh (Corn Tom Hogan). The feedback from players and coaches was very positive and they particularly relished the chance to play against different opposition from traditional Hurling Counties in the latter stages of the competition – this really reflects the vibrant and unique structure of the Bank of Ireland Celtic Challenge."
Speaking at the launch, Liam Sheedy, Director, Bank of Ireland said; "I am delighted to be in Tyrone today to launch the 2018 Bank of Ireland Celtic Challenge competition. Hurling is growing really strongly throughout Ulster and in last year's Bank of Ireland Celtic Challenge finals, five out of the 12 teams were from Ulster.
"This unique competition gives 16 and 17-year olds around the four provinces the opportunity to upskill and further develop their game. At Bank of Ireland we are very committed to supporting today's youth and we invite teenagers from every county in Ulster to take part in the Bank of Ireland Celtic Challenge 2018."
Aside from the packed programme of matches, The Bank of Ireland Celtic Challenge also feature a number of new initiatives on trial for the first time in Gaelic games including an interchange policy, which ensures every player on a squad can be involved in a game. Furthermore, a key feature of the competition is that referees and match officials meet and speak with the teams prior to the game. In addition to this, the 'Best and Fairest Award' has been a great success – after every match, referees and their officials choose one player from each team selected on the basis of their skill level as well as the respect they showed to the playing rules, match officials and their fellow players.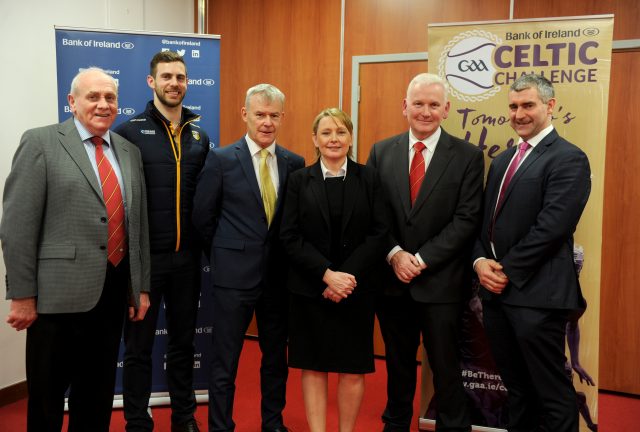 The full list of the 41 teams taking part in The Bank of Ireland Celtic Challenge 2018 is:
GROUP A
North Clare
Limerick Sarsfields
North Tipperary
Galway McDonagh
Galway Maroon
GROUP B
Clare South/East
West Cork
Kerry
Limerick Treaty
North Cork
GROUP C
Dublin Clarke
Dublin Plunkett
Wexford
Laois
Offaly
GROUP D
Carlow
Meath Royals
Kildare Lily Whites
Westmeath
Wicklow
GROUP E
Waterford
South Tipperary
Cork East
Cork City
Kilkenny
GROUP F
Cavan
Leitrim
Longford
Louth
Monaghan
GROUP G
Mayo
Roscommon
Donegal
Sligo
Galway Tribesmen
GROUP H
Antrim
Derry
Down
Armagh
Fermanagh
Tyrone