Young Coach rewarded for developing both Gaelic Football codes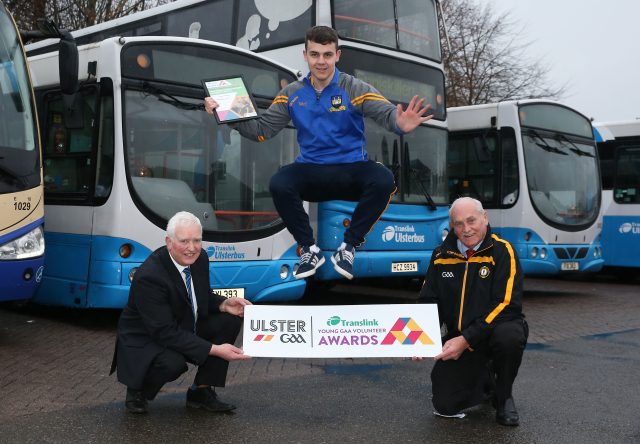 Ulster GAA in association with Translink are delighted to recognise an outstanding young GAA volunteer from Enniskillen Gaels, Co Fermanagh.
23 year old Tomas McCaffrey has been awarded the Translink Young GAA Volunteer of the Month Award for November 2017, following a nomination from his club which demonstrated his outstanding contribution to the Enniskillen Gaels club.
Tomas has been described as a very valuable asset to the club, giving his time freely to develop Gaelic Football in both male and female codes at various age groups.
Presenting Tomas with his award, Ulster GAA Vice Chairperson Oliver Galligan said, "We were really struck by Tomas McCaffrey's commitment to his club and the impact he is making on the wider club community. It is inspiring to see a young man involved in doing such good work in his GAA club as a coach and club volunteer. I am delighted to recognise Tomas's volunteering effort and to highlight the huge impact young GAA volunteers are making in their communities. Once again we had an impressive set of nominations for this award from clubs right across Ulster, showcasing the impact of youth volunteering in the GAA."
Cennie Keown, Translink Inspector added: "On behalf of Translink I'd like to congratulate Tomas on winning this Volunteer of the Month Award. It is clear that through his commitment to volunteering with Enniskillen Gaels, he makes a very important contribution to his local community. Translink is delighted to recognise Tomas and other young people like him, celebrating the positive ways young people across Ulster share their time and talents to benefit others around them."
Andy Hamill, Enniskillen Gaels Youth Chairperson,describing Tomas's contribution to the club, said, "Through Tomas' drive and engagement with the young players, we have seen our numbers at U13 Ladies rise from a maximum of 10 – 13 at the start of the season, to regularly having 25 – 30 training on a Friday evening. Additionally, the growth in Tomas' own personal confidence has been clearly evident throughout the year, something which he acknowledges has helped him in his working life as he embarks on his career post 3rd level education, and recognises the benefits of his volunteering on his communication and interpersonal skills."