Generous donation to Ulster GAA Wheelchair Hurling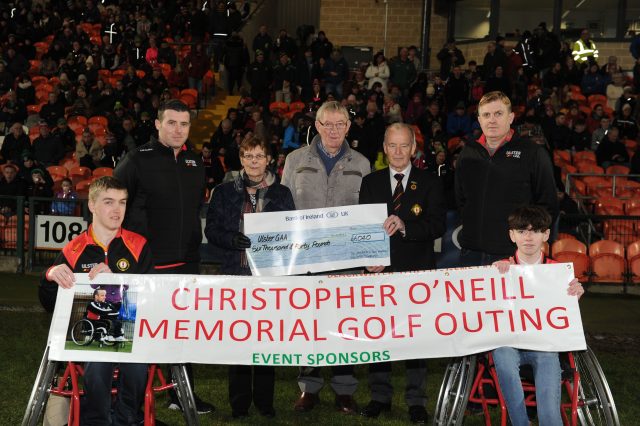 At the recent Bank of Ireland Dr McKenna Cup Final, Ulster GAA received a donation for our Wheelchair Hurlers  from the the O'Neill family, Portglenone.
Declan O'Neill who now lives in Philadelphia, each year runs a fundraiser in memory of his  late brother Christopher, who had Spina Bifida and passed away a few years ago. The money raised is shared with local charities or clubs and this year The Christopher O'Neill Memorial Golf Outing, Philadelphia has donated $8370 to the Ulster GAA Wheelchair Hurling Programme.
Plans are in place to use this generous donation to increase participation numbers in the programme throughout the Province and to empower people with physical disabilities qualifications to enable them to get involved with coaching in their local clubs and communities.
Declan would like to acknowledge the contributions made by Paddy Rooney & the Philadelphia GAA Community in the fundraising.
We were delighted to welcome Christopher's  parents Stafford and Angela to the Athletic Grounds to make the cheque presentation at half time. They are pictured above with Ulster GAA President Michael Hasson, Shane McCann & Paul Callaghan, Ulster GAA Active Clubs Coordinators and Ulster Wheelchair Hurlers, Ruairi Haffey & Ruairi Mc Dermott