St. Galls GAA player wins Translink Ulster GAA Young Volunteer of the Year Award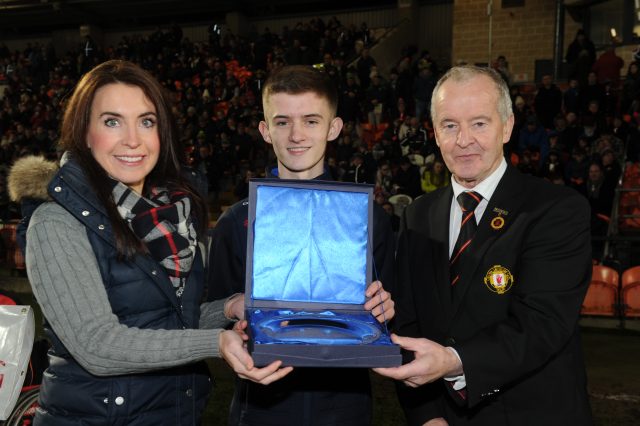 Fifteen-year-old Sean Kelly, a member of St. Gall's GAA Club in Belfast has been announced as the overall winner of the Translink Ulster GAA Young Volunteer of the Year Award for 2017.
The awards programme, in its first year, was designed to celebrate the important contribution young GAA volunteers make to their own communities. Clubs across Ulster were invited to nominate young people throughout the year and each month, a panel of experts chose someone for the monthly prize. Sean, who won in June, was subsequently selected as the overall winner. His prize package includes a full set of playing jerseys for his club, as well as a commemorative jacket and trophy for himself.
Presenting Sean with the award at half-time during the Bank of Ireland Dr McKenna Cup final, Ursula Henderson, Translink said:
"On behalf of Translink, I warmly congratulate Sean, who is the first ever winner of the Translink Ulster GAA Volunteer of the Year Award.
"The initiative has proved to be a wonderful way to recognise the time, talent and commitment young people contribute to the communities we serve. We were very impressed with the standard of entries received, as each month saw inspiring and hard-working young people rewarded for the volunteer work they do.
"Sean stood out as a team player, who balances his commitments as a member of the under-16 panel alongside volunteering to make sure the club facilities are in great condition for everyone to enjoy. He is a very worthy recipient of the overall award and a great role model for others.
"We'd like to thank all of the GAA clubs across Ulster who supported the initiative by submitting nominations throughout the year. It was clear from the number, and standard of entries, that young people like Sean make a really positive contribution which does not go unnoticed and is highly valued by those around them."
Ulster GAA President Michael Hasson said:
"The Translink Young Volunteer Award emphasises the impact that young people are making every day in their GAA clubs and Ulster GAA is proud to raise the recognition of these contributions to the Association across all nine Ulster counties."
"I congratulate Sean on being selected for this inaugural award. He emerged from a high-quality month of nominees in June 2017 at a time when the GAA season was in full flight and volunteering efforts would have been at their highest. Sean comes from an urban area where there are many temptations outside of the local GAA club and this presents unique challenges to young people in this environment. The GAA is delighted that young people like Sean, who is only 15, choose to volunteer readily in club activities."