Ulster Gaels win prestigious awards at Gradaim an Uachtaráin 2018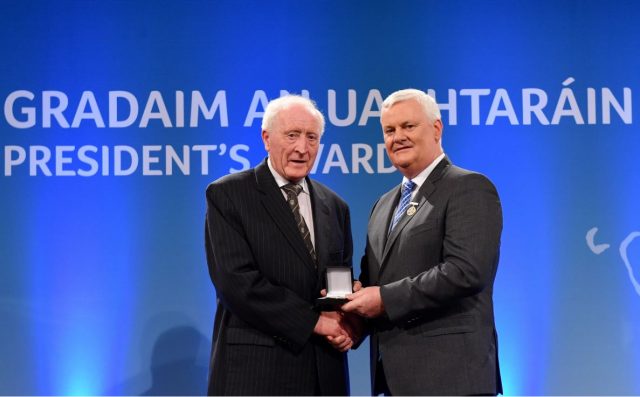 Comhghairdeas to three Ulster Gaels who were recognised at Gradaim an Uachtaráin 2018 for their outstanding contribution to Gaelic Games and Culture.
Speaking at a special banquet held at Croke Park on Friday night, Uachtarán Chumann Lúthchleas Gael Aogán Ó Fearghail said: "This event is one of the highlights in the diary of an Uachtarán because it is a special opportunity to shine a light on some of the outstanding people whose selfless dedication to our Games has made our Association the thriving entity that it is today.
"The GAA is at its best when it sees people come together to work towards a goal and all of those who are gathered here tonight for awards deserve special tribute for the inspirational work they have done.
"I would like to acknowledge AIB and Denis O'Callaghan, for their ongoing support of these awards and of their wider commitment to Gaelic games.
"Míle buíochas also to TG4 for their assistance in helping us to bring these awards to the widest audience possible and for the work they do each year in showcasing Gaelic games."
The awards are made on a provincial and code basis. As well as Gaeilge, Education and International Awards, the presentation of the annual Dermot Earley Family Award was also made.
The three Ulster recipients included –
Seamus O' Hare, Ulster 
Dependability and reliability are the hallmarks of what has been an outstanding lifetime commitment to the GAA by Seamus O'Hare. Working first with the former St Colmcille's GAA Club in East Belfast in the 1950s and subsequently with St John's, Seamus has been always ready and willing to answer the call where needed.
Whether that was serving as a widely respected referee, stewarding at Croke Park, serving on committees or acting as Club Secretary for several years, his passion for the GAA was in making a contribution that improved his club and the wider association and the positive legacy of this work is in the depth of the respect with which he is held by all who know him.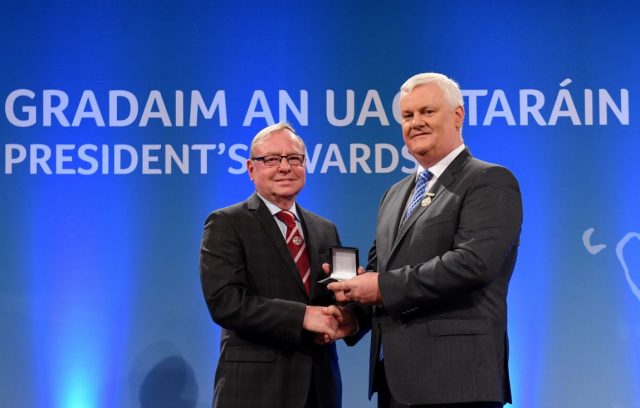 Sean McEntee, Handball
Sean McEntee has had several careers in Irish handball – as player, coach and administrator. He first became involved as a player in the two courts at Queens University, Belfast in the early 1970s. He was a founder member of Belfast Central Handball Club and Belfast Handball Association which eventually grew to become Antrim Handball Committee. Sean joined with the late Sean Boyle to put together a vibrant and successful St Paul's club which amassed innumerable national titles.
He conceived of the idea of The Golden Gloves tournament which he ran with great success for 15 years and which attracted players at every level from all over Ireland for a wonderful playing and social weekend and as well as his playing success he has been an excellent coach.
Sean was Chairman of the National Coaching Council and became President of the Irish Handball Council from 1993 until 1996.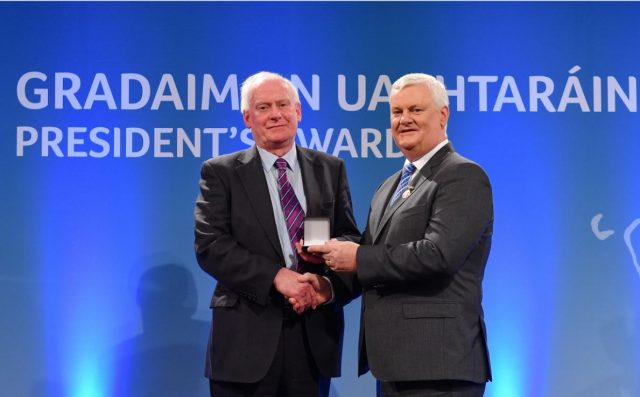 Seán Ó hEarcáin, Irish Award 
Rugadh Seán Ó hEarcáin i nGlascú i lár na gcaogaidí, áit a raibh a athair Seán agus a mháthair Sorcha Nic Aoidh, as an tSeanbhaile, Fálcarrach ina gconaí ag an am.
I ndhiadh tamall, d'fhill an teaglach go Gaeltacht mhór Chloich Cheann Fhaola agus tógadh Seán agus a dheartháireacha, Peadar, Niall agus Gearóid ar an tSrúthán, tuarim is leath bealaigh idir An Fhálcarrach agus Gort a'Choirce. D'freastal sé ar Scoil Mhíndoire, ag siuil síos an Mhullaigh Ghárbh agus trasna an phortaigh go doras na scoile. I ndhiadh scolaíocht mhaith ar an bhun scoil, chuaigh sé siar an bealach mór go Árd Scoil Mhúire 'sna Doire Beaga. I ndhiadh an tÁrd Teist, chuaigh sé go Ollscoil na Gallimhe áit ar bhain sé céim amach mar mhúinteoir dara leibheál.
Nuair a bhí Seán ag éirigh aníos i gCloich Cheann Fhaola, d'imir sé peil faoi aois agus sa ghrád sóisireach fosta ar feabh cúpla blain eile indhiadh a cheantar dúchais a fhágáil.
Cé go raibh a shuim sna cluichí gaelach láidir i gconaí,'s nuair a bhí sé ag múinteoireach i gContae Mhaigheo a thainic a chuimseach mar riarthóír, mar réiteoir, agus mar cheannaire C.L.G chun tosaigh.
Chaith Seán na blianta fada ag múineadh i gClochar Íosa agus Mhúire, Crois Mhaolíósa i gContae Mhaigheo agus páirt mhór aige leis an pheil 'san scoil agus 'san chumann áitiúil. Bhí postanna áirithe aige le CLG Chrois Maolíosa ach 's mar oifigeach caidrimh poiblí is mó a tharraingt sé cliú ar féin. I measc dualgaisí eile agus rud a bhí neamh iontach ag an am, d'foillsigh Seán leabhar bliantiuil don chlub ar feadh deic mbliana ar a laghad. Thosaigh sé ag réiteoireach fosta agus rinne sé móltoireacht ar chluiche ceannais sinsireach Mhaigheo chomh maith le go leor cluichí eile. 'Sé a bhí i gceannas ag an chluiche ceannais nuair a h-imríodh Comórtas Peile na Gaeltachta i mBéal an Mhuirthid sa bhlian 1987 agus ceithre bliana indhiadh sin, i bPáirc an Chróchaigh a bhí a shiúl agus é ag rith an líne i gcluiche ceannais na bliana sin idir An Dún agus an Mhí.
Nuair a bhí a chosa ag éirigh tuirseach, thiontaigh sé chuig an riarthóireacht agus a pharóíste dúchais aríst agus ról aige anois mar ionadaí Chloich Cheann Fhaola ag cruinnithe Peile na Gaeltachta. Sar a bhfad, chonaic a chomrádaí a chumas agus roghnaíodh é mar Chathoirleach ar an eagraíocht naisiúnta I 2001. Anois agus é ins an chathaoir sin le sé mbliana déag, is mó atá an gradam seo tuilte ag Seán Ó hEarcáin. Cé go bhfuil sé ina gcónaí i gceantar Béal Átha na Muice, Contae Mhaigheo in aice le baile fearainn a dtugtar Lár na Páirce ar ó 1974, an cineál áite a chaith Seán a shaol i stair Chumann Lúthchleas Gael go h-áitiúil agus go naisiúnta "Conallach ar Deoraíocht mé" adeir sé"!