Ulster GAA shows commitment to mental health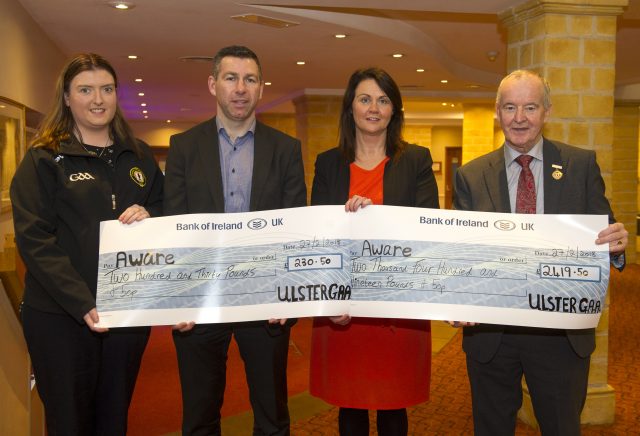 AWARE, the depression charity for Northern Ireland, has received a donation of £2,650 from Ulster GAA, which is the proceeds from a raffle at the Ulster GAA President's Awards night and a coffee morning held in the Ulster GAA office in Armagh.
AWARE has worked closely with the GAA over the past year to develop a new wellbeing programme, Mindfit, which aims to help young members develop the skills and techniques to look after their mental health. The workshops will help participants increase their resilience and ability to deal with life's challenges.
In total 15 MindFit sessions will be delivered in counties across the region in a pilot programme running from January – March 2018. Feedback from attendees has been very positive and it is hoped that after full evaluation of the pilot programme that Ulster GAA in conjunction with AWARE may be able to offer the MindFit programme more widely to clubs in the future.
AWARE continue to be a sounding board for best practice for Ulster GAA in relation to mental health, and more specifically depression. This complements the work already completed in the development of Ulster GAA's social media campaign promoting the "5 Steps to Wellbeing" in 2017, following funding from the Public Health Agency.
Teresa Sloan, Director of Fundraising & Communications, AWARE said:
"We would like to thank Ulster GAA for their continued support for AWARE, enabling AWARE to deliver mental health and wellbeing programmes into communities, schools, colleges, universities and workplaces. It is great to see the commitment of the Ulster GAA to the mental health of their players and we wish them continued success with the Mindfit programme."
Michael Hasson, Ulster GAA President said:
''AWARE has been doing excellent work around the very important issues of depression and mental health. I am delighted that we have been able to work with the team at AWARE to increase awareness of these issues throughout the GAA in Ulster.''
For more on the services offered by AWARE go to www.aware-ni.org.
Pictured at the cheques presentation from Ulster GAA to AWARE are L-R – Geraldine McKavanagh, Ulster GAA, Diarmaid Marsden, Head of Club and Community Development, Ulster GAA, Teresa Sloan, Director of Fundraising & Communications, AWARE and Michael Hasson, President, Ulster GAA