Down GAA Centre at Ballykinlar Expressions of Interest – Advertisement and Notice for Appointment of Planning Consultant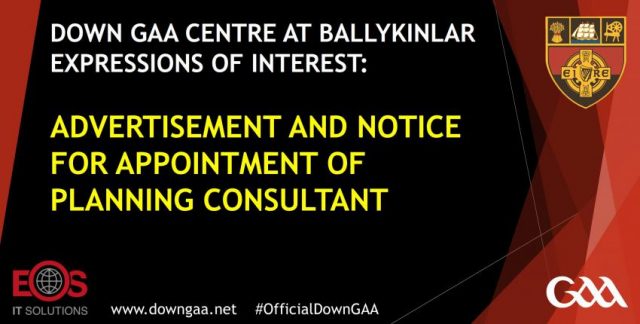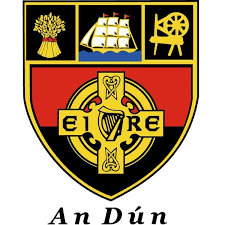 CUMANN LÚTHCHLEAS GAEL
COISTE CHONTAE AN DÚIN
DOWN GAA CENTRE AT BALLYKINLAR
EXPRESSIONS OF INTEREST
ADVERTISEMENT AND NOTICE FOR APPOINTMENT OF PLANNING CONSULTANT
Down GAA are seeking to develop a Centre at Ballykinlar to include playing pitches, changing rooms, administration headquarters and multi-purpose indoor facilities. It is our intention to submit a full planning application before the end of December 2018. To this end we are now seeking expressions of interest from suitably qualified Planning Consultants.
Applications are invited from Planning Consultants to undertake the lead role on the various stages necessary to deliver a successful planning application on behalf of Down GAA, and work in parallel with a separately appointed design team. Any planning consultant acting on a project of this nature and scale should carry a £5m Professional Indemnity Cover and a £10m Employers Liability Cover.
A short-list of Consultants will be compiled and invited to submit bids for this commission. The commission will be for Planning Consultant and work will be for an initial period of approximately 6 months and will commence during the summer of 2018.
The estimated total project cost for the new facility is in the region of £6m excluding VAT.
The last date for receipt of your expression of interest and any additional information requested at the address below is 26th April 2018.
Mr. Seán Óg McAteer
County Secretary Down GAA
Seán Óg Mac Antsaoir, Runaí Coiste Chontae An Dúin
Sean Og McAteer, Down GAA County Secretary,
Down County Office, The Grove Building, 46-48 Main St, Castlewellan, BT31 9DP