Ulster GAA announces Championship schedule and ticketing prices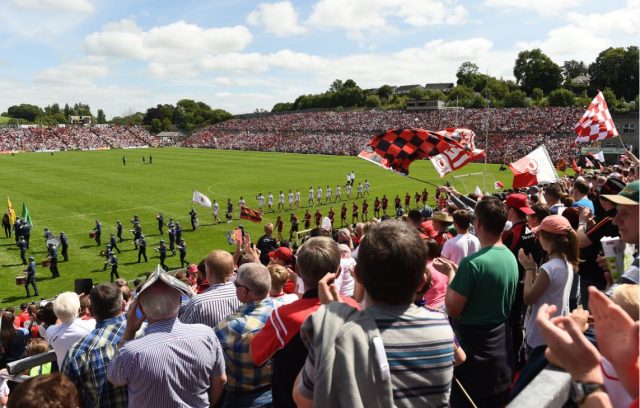 Ulster GAA today announced details of the forthcoming Championship schedule, ahead of next week's formal launch.
Whilst the dates of the senior fixtures have been known for some time, the Council confirmed that the EirGrid U-20 Football Championship, in accordance with GAA rules, will also be played over the summer months (the U-21 Championship was previously played in the spring). Additionally, the creation of a 'back door' system for the Electric Ireland Minor Football Championship has meant that Ulster GAA have had to show both creativity and flexibility in the scheduling of curtain raisers for Ulster Senior Football Championship fixtures.
There will be an Electric Ireland Minor Championship curtain-raiser to the Senior Championship games on 13th May and 20th May, while the Lory Meagher Hurling game between Fermanagh and Cavan will act as the curtain-raiser for the Fermanagh versus Armagh senior game on 19th May. EirGrid U-20 Football Championship matches will feature as the curtain-raisers for all other games, with the U-20 final preceding the senior final on 24th June.
Explaining the changes Ulster GAA Provincial Secretary Brian McAvoy said;
"The Ulster Championship will have a different feel to it this year. As well as it being run off over just seven weeks, the new time slot for the Eirgrid U-20 Championship and the change of format for the Electric Ireland Minor Championship, where teams now get a second chance, has meant that we've had to be flexible in our approach to curtain raisers.
"Consequently the identity of the teams participating in the curtain-raisers on 13th and 20th May won't be known until earlier games have been played but, where possible, we will endeavour to match at least one of the teams up with a participating senior county.
"There will be a break in the Electric Ireland Minor Championship after 20th May and it will resume at semi-final stage at the end of June, after state examinations have concluded. From the last weekend in May until our provincial final on 24th June the new Eirgrid U-20 Championship fixtures will whet the appetite for the senior encounters to follow. All told it promises to be a novel, historic and exciting championship."
Ulster GAA have also announced their ticket prices for this year's Championship, with an increase which effectively brings the prices back to 2008 prices (there was a reduction in prices in 2009 due to the economic downturn and prices have remained frozen ever since). Pre-match day prices for all games up to and including semi-finals will see an adult stand ticket priced at €28 (up from €25) and a terrace ticket priced at €18 (up from €15), while for the Ulster Final an adult stand ticket will cost €35 (up from €30) and a terrace ticket will cost €22 (up from €18). There will be the usual concessions for senior citizens and students and family tickets will again be available through County Committees. Juvenile tickets will be priced at £5/€5 for all games.
Brian McAvoy said;
"As I stated in my annual report to the Ulster Convention in January, it was likely that there would be an increase in admission charges for the 2018 Football Championship. With ticket prices actually lower in 2017 than they were in 2007, an analysis showed that we were out of kilter with the other provinces in terms of our pricing structure. In relation to terrace tickets we were almost 40% below that being charged elsewhere in the other provinces.
"These price adjustments still present good value for money and the usual concessions will continue to apply in certain sectors. These will apply at all stages of the competition though patrons should be aware that concessions for senior citizens, students and family tickets are only available from clubs and county committees. The over-riding message to patrons however is to purchase tickets in advance to receive best value.
"All Ulster GAA revenues continue to assist with the funding of various programmes and initiatives throughout the province as we strive to benefit the Association at club and county level."