Ulster GAA team in Belfast Marathon challenge for good cause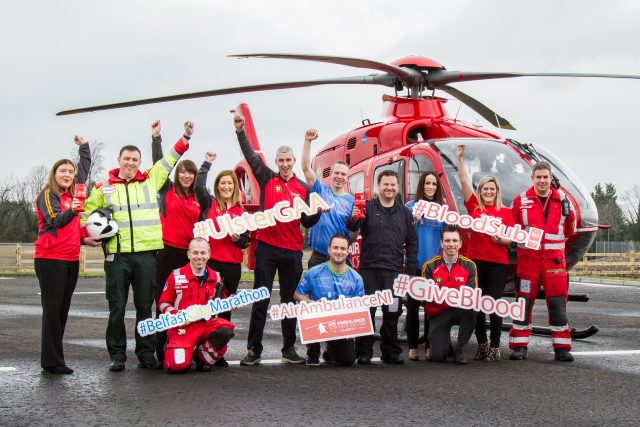 Ulster GAA staff will be putting their best foot forward to fundraise for the Air Ambulance and to promote blood donation for both the Northern Ireland Blood Transfusion Service and the Irish Blood Transfusion Service.
On Bank Holiday Monday 7th May, 20+ members of Ulster GAA and friends will take part in the 2018 Belfast City Marathon in memory of their dear friend and former Provincial Secretary/CEO of Ulster GAA, the late Dr. Danny Murphy, who sadly lost his brave battle with cancer just over a year ago.
Ulster GAA is aiming to raise a significant amount for the Air Ambulance with four entries into the Team Relay Event as well as one staff member taking part in the full Marathon Race.
Air Ambulance NI is the charity that fundraises for and manages the helicopter operations of the region's Helicopter Emergency Medical Service.  It works in partnership with the NI Ambulance Service and the Health Trusts which provide the medical teams on board its helicopter.  It is a doctor-led service so its value is in getting hospital Emergency Room level treatment to trauma casualties on site in minutes, as well as slashing the travel time for the transfer of casualties to hospital.
Geraldine McKavanagh from Ulster GAA said:
"Danny gave unstinting dedication, commitment and service to the GAA in Ulster for over 35 years and delivered outstanding work in the cross-community space during this time. He had pledged his support for the Air Ambulance campaign but his untimely passing in December 2016 meant that he unfortunately didn't get to see it's launch last year. For this reason, we decided to fundraise for the charity in Danny's memory and provide some of the support that he would have wanted to deliver.''
"Danny bravely fought his illnesses for over a decade and his family and friends saw first hand how important blood donations were to him, particularly in the latter months of his life. We therefore decided to help raise awareness of the importance of blood donation and encourage people to pledge and sign up to become blood donors. It is estimated that up to three lives are saved for every pint of blood donated.''
Many of the Ulster GAA staff taking part were non-runners so in preparation for the Belfast City Marathon, in recent months they have been taking part in 'Couch to 5k' programmes to improve their fitness levels. A number of the Ulster GAA staff have also enrolled as blood donors and registered at their local donation sessions.
Michael Hasson, President, Ulster GAA said:
"I am extremely proud of our staff team who are giving their time to take part in the Marathon in memory of our esteemed Officer Danny Murphy. Fundraising for the Air Ambulance and boosting awareness of blood donation are two very worthy causes and wish them well with their training and on race day."
Colleen Milligan, Area Fundraising Manager at Air Ambulance NI said:
"It is down to the generosity of local people and organisations that we are able to continue to raise vital funds to service the £2m annual running costs to keep the air ambulance flying. We'd like to thank Ulster GAA and their runners for their support in this event."
To show your support to the Ulster GAA teams 2018 Belfast City Marathon Challenge please visit their MyDonate fundraising page here https://mydonate.bt.com/fundraisers/ulstergaa
To register to become a Blood Donor please complete the registration via one of the links below:
Northern Ireland Blood Transfusion Service
OR
The Irish Blood Transfusion Service
For Clubs looking to know more about the GAA Blood Sub initiative please contact please visit: https://ulster.gaa.ie/health/blood-sub/
To find out more about the importance of blood donation please visit:
OR