Doire claim the inaugural U15 Brian McLernon Cup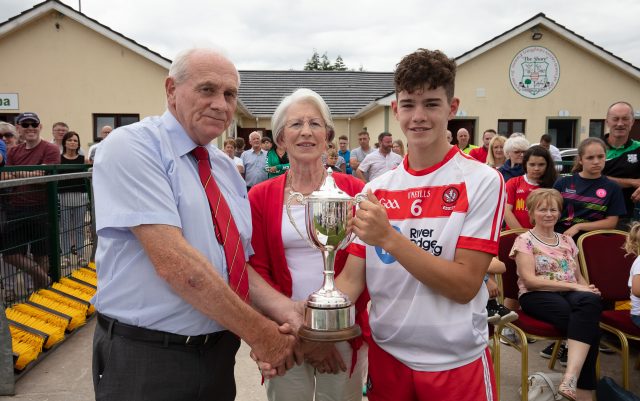 The Derry and Cavan U15 teams went head to head on Saturday at Derrylaughan GAA in a bid to get their hands on the inaugural Brian McLernon Cup.
Against a scenic backdrop the Oak Leaf side held off a strong second half comeback from Cavan to take home the title on a full-time scoreline of 2-15 to 2-11
Lavey's Matthew Downey didn't shirk the responsibility that comes with his family name as the son of Henry hit ten scores to lead the Derry charge.
In Caolan O'Reilly Cavan had a danger man on the edge of the square that proved a perfect target, but he was no match for the dogged determination of the impressive Adam McGonigle. Mark Doherty dropped back as a sweeper and the Breffni found themselves crowded out as soon as they passed midfield.
O'Reilly was eventually moved out to the '45 to try and get involved in the play. Still, shots dropped short, poor wides were hit and wayward passes were gleefully mopped up.
It was the Oak Leaf pressure that really won them the game. They came out of the blocks fast with a free from Charlie Diamond and pressed high on Thomas Byrd's kick-out. Seconds later the ball was in the net with Callum Downey nipped in front to win it and Jody McDermott made the run off his shoulder to fire home. The running game was relentless.
With every kick from Byrd Derry were in Cavan's faces. They left acres of space in behind, but it didn't matter as time and again they showed the greater desire, power and tenacity to win it ahead of a blue shirt, and so often it lead to scores.
By the mid-way stage of the first half, Chris Collins' men were 1-7 to 0-2 up against a team that had demolished Tyrone 7-13 to 0-11 in their semi-final.
Still, with five wides to their name the lead was only six. It gave Cavan hope and they came out rejuvenated in the second half.
They had the perfect start when, after three minutes, Philip Smith palmed to the net, but Derry showed why they were crowned champions as two minutes later they pressed high and won another Byrd kick-out where Diamond found Mark Doherty who slammed to the net.
A goal from Emmanuel Shedu was the Breffni's reward for throwing high ball after high ball into the square, and while they managed to get themselves within three – Derry showed composure and resilience to close the game out.
NO MESSING ABOUT
Brilliant defensive work from Adam McGonigle denied Cavan from the off, and while Matthew Downey shot wide at the other end Derry won the kick-out and then a free, which Charlie Diamond converted.
Byrd chose the wrong option as he looked for Sean Og McCarty who was outfought by Callum Downey, and the impressive and energetic Jody McDermott made the supporting run off his right shoulder before taking the pass and swiftly firing to the net.
Caolan McCabe opened the Cavan account after Lee Brady was caught with no options on his own 20 metre line, while Downey and a Diamond free extended the Oak Leaf lead.
Diamond and Donncha Gilmore linked up before finding Matthew Downey who burned Dean Carroll for pace and took his score well.
Emmanuel Shedu was another tall, powerful forward for the Breffni men, and he found Caolan O'Reilly with a free inside before Ryan Laverty committed the foul, with Shedu splitting the sticks from the dead ball.
Downey was again too quick for Carroll, who fouled him from behind, and the Lavey man popped over the free before adding another when McDermott was wiped out when driving at the heart of the Blues defence.
Once more, the Oak Leaf won the kick-out and Donncha Gilmore hit his first before Ben O'Kane was called into action– denying O'Reilly with his first real opening, with Cormac Brady alert to convert the rebound – 1-7 to 0-3.
Dean Carroll and Matthew Downey exchanged points before O'Reilly, who was double marked by Adam McGonigle and Ryan Laverty, won the high ball but swung over the bar rather than under.
A great sweeping move from the kick-out ended in a sweet Downey finish, but it was Cavan who got the final score of the half as McGonigle drove out of defence and found McDermott, but he was needlessly loose in possession allowing Shedu to slip it down the line for Shane Tynan to point.
Half-time
Derry 1-09 Cavan 0-06
Cavan made some industrial changes at half-time, bringing in Killian Boyle and Colin McCauley and moving Shedu to midfield for the departed Carroll, while Derry introduced Shea O'Neill.
The Shedu switch proved inspired within three minutes as he played a long left-footed pass into O'Reilly who climbed above McGonigle and fisted it across the square for skipper Philip Smith to palm past a helpless O'Kane.
It was the dream start, but the euphoria lasted less than two minutes as a Byrd kick-out went straight to Charlie diamond and, like the first goal, there was a runner in support – this time in the form of Mark Doherty who burst through and blasted home from ten metres.
Matthew Downey opened his second half account with a free, while Shane Tynan produced a good finish after Cavan were crowded out inside the Derry '45 and forced to recycle the ball.
The ball was worked through the hands of Doherty, Jack McGonigle and McDermott before Smith committed the foul and Diamond made it 2-11 to 1-7.
McDermott then hit his first point, while Tynan and substitute Conor Casey reduced the gap for the Breffni men.
Another Byrd kick found only Callum Downey who was fouled by O'Reilly for a free that Matthew Downey converted, but Cavan did grab a lifeline at the other end when they moved the ball swiftly from left to right, with Killian Boyle passing it back for Shedu on the 13 metre line to send a bullet to the bottom left corner.
Two Casey scores suddenly made matters a real contest and 2-14 to 2-11 with five to go, and it could have been level but for a sensational reflex O'Kane save to deny Tynan, with the help of the crossbar.
A poor wide from Diamond was an indication of the tired legs and the pressure on Derry shoulders, but with McDermott winning the resulting kick-out before being fouled – Matthew Downey hit his tenth of the day to give the Oak Leaf some insurance.
The Breffni men desperately pumped long ball after long ball in, but the Derry defence stood firm and in the end, after leading from the entirety of the game, they deservedly took home the trophy.
Teams
Derry: Ben O'Kane, Jack McGonigle, Ryan Laverty, Adam McGonigle, Lee Brady, Conor Shields, Eoin McEvoy, Jody McDermott (1-1), Donncha Gilmore (0-1), Callum Downey, Matthew Downey (0-10, 6f), Charlie Diamond (0-3f), Mark Doherty (1-0), Shea Ferguson, Peter McCullagh.
Subs: Shea O'Neill for S Ferguson (HT).
Cavan: Thomas Byrd, Dara Nulty, Cormac McGeough, Caolan Smith, Sean Og McCarthy, Ronan Trainor, Colin Gargan, Philip Smith (1-0), Dean Carroll (0-1), Cormac Brady (0-1), Caolan McCabe (0-1), Emmanuel Shedu (1-1, 1f), Oran McIntyre, Caolan O'Reilly (0-1), Shane Tynan (0-3, 1f)
Subs: Conor Casey (0-2) for O McIntyre (23), Killian Boyle for D Nulty (inj)(HT), Colin McCauley for D Carroll (HT), James McBreen for S Og McCarty (40), Mark Sexton for C Brady (44), Cormac Clarke (0-1) for J McBreen (60).
Referee: Gary Gormley.
Man of the Match
Matthew Downey – All the talk in the crowd was of Downey. The young forward was simply sublime. His movement, pace and intelligence created opportunity after opportunity for Derry, while his kicking from play and frees was that of a player ten years his senior.
Score of the Match
Jody McDermott goal – There were some impressive points in the game, but the first Derry goal exemplified everything that was good about their play. They pressed high and put the pressure on Thomas Byrd's kick, and after winning the ball through Callum Downey, Jody McDermott set off on a burst from midfield and took the pass before firing home.
Turning point
Mark Doherty goal – Cavan knew they needed a good start to the second half, and they got it through Philip Smith's goal, but Derry dealt them the ultimate sucker punch when, within two minutes, Mark Doherty raised a green flag of his own to kill the Breffni momentum.
Report: Derry News (Orlagh Mullan).