Nine clubs across Province achieve Club Maith accreditation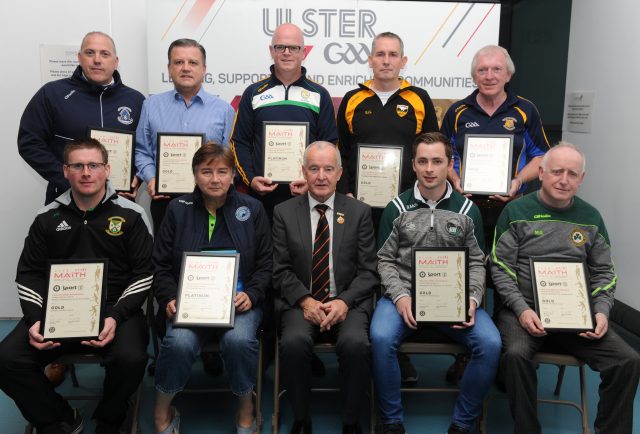 Ulster GAA are delighted to announce that nine clubs from across the Province have successfully achieved Club Maith accreditation at the relevant standard, including;
Roslea Shamrocks – Gold
O'Donovan Rossa Magherafelt – Gold
St Joseph's Ballycran – Gold
Killyman St Mary's – Gold
St Patrick's Mayobridge – Platinum
Greencastle St Patrick's – Gold
Liatroim Fontenoys – Platinum
Kinawley Brian Boru's – Gold
Desertmartin St Martin's – Gold
Each club received their certificate of accreditation from Ulster GAA President Michael Hasson at a presentation event held in Market Place Theatre, Armagh on Thursday 23rd August.
Speaking at the event the Ulster GAA President commented that:
"This is a significant achievement for each of the clubs involved and is not only an endorsement of the high standards of governance in place but will also be of great importance for future club development."
A Club Maith award makes a clear, proven statement about the quality of a club right across five core areas of GAA club business: Governance; Duty of Care; Community Enhancement; Culture and Heritage; and Coaching and Games Development.
The assessment process involves the submission of a club portfolio to the Club Maith assessors at the Ulster Council which must demonstrate how the club matches up to the governance standards set out in the Club Maith framework. The portfolio is then assessed and as part of the overall assessment, Assessors also visit the club to review coaching standards and discuss the portfolio with the relevant club officers.
There are many benefits to going through Club Maith for your club. Feedback from clubs who have gone through the process say they have been able to make huge improvements in their club by going through Club Maith without having to spend a lot of money, or having to completely over-haul how they conduct their business. Clubs have reported that they have recruited new volunteers into the club as a result, and the club has become a more relevant place for members of their community who would have stayed away from the club.
Ulster GAA will support clubs through the process but ultimately a club's application should be developed by the Club so as to be relevant to the club's needs.
Should your club have any queries regarding Club Maith please email fionntan.odowd.ulster@gaa.ie and support will be on hand.