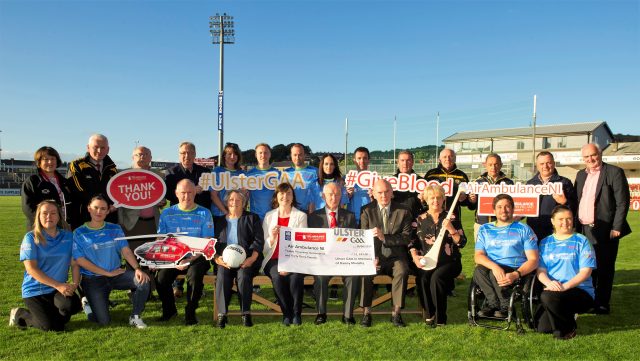 Ulster GAA along with family and friends recently presented a cheque to representatives from the Air Ambulance charity having raised £12,633 in memory of the former Provincial Secretary, the late Dr. Danny Murphy, who sadly lost his brave battle with cancer in December 2016.
By taking part in the Belfast City Marathon as well as hosting a coffee morning and quiz night, the marathon team were raising funds for the Air Ambulance and promoting Blood Donation for the Northern Ireland Blood Transfusion Service and The Irish Blood Transfusion Service.
The money raised will support Air Ambulance NI (http://www.airambulanceni.org) the charity that fundraises for and manages the helicopter operations of the region's Helicopter Emergency Medical Service.  It works in partnership with the N.I. Ambulance Service and the Health Trusts which provide the medical teams on board its helicopter.  It is a doctor-led service so its value is in getting hospital Emergency Room level treatment to trauma casualties on site in minutes, as well as slashing the travel time for the transfer of casualties to hospital.
Danny gave unstinting dedication, commitment and service to the GAA in Ulster for over 35 years and delivered outstanding work in the cross-community space during this time. Danny had pledged his support for the Air Ambulance charity but his untimely passing in December 2016 meant that he unfortunately didn't get to experience the launch last year. During Danny's treatments his family and friends saw first-hand how important blood donations were to him, particularly in the latter months of his life. It was for these reasons that the team decided to fundraise for Air Ambulance NI and raise awareness of the importance of blood donation and encourage people to pledge and sign up to become blood donors in honour of his memory.
Geraldine McKavanagh, Ulster GAA said;
"We'd like to most sincerely thank everyone who supported the Ulster GAA teams fundraising efforts by helping to raise £12,633 for Air Ambulance NI as well as the individuals who registered to become blood donors in memory of our very dear friend Danny Murphy, your kindness and support is very much appreciated.  A special word of thanks to Kieran Kennedy and O'Neills International Sportswear for sponsoring the specially commissioned running tops for our runners."
Michael Hasson, President, Ulster GAA said:
"I am extremely proud of our staff team who took part in the Marathon in memory of our esteemed Officer Danny Murphy. Fundraising for the Air Ambulance and boosting awareness of blood donation two very worthy causes."
Breige Mulholland Head of Operations and Finance at Air Ambulance NI said:
"Air Ambulance NI would like to thank Ulster GAA for the generosity in fundraising in aid of AANI by participating in the Belfast Marathon.  Air Ambulance NI is your local charity, providing advance critically care benefiting those whose lives are at risk following significant injury or trauma – weather on the roadside, farm, top of a mountain or on the pitch – AANI is there for you and your families.  It takes £2m a year to fund this vital service and the contribution Ulster GAA made has been tremendous."
To register to become a Blood Donor please complete the registration via one of the links below:
Northern Ireland Blood Transfusion Service
Or
The Irish Blood Transfusion Service
For Clubs looking to know more about the GAA Blood Sub initiative please visit: https://ulster.gaa.ie/health/blood-sub/
To find out more about the importance of blood donation please visit:
http://www.nibts.hscni.net/ OR https://www.giveblood.ie/
Ulster GAA Marathon Challenge Participants: Bernie Fox, Claire Curran, Michelle McAleer, Stephen Donnelly, Catherine Donnelly, Frankie Quinn, Mary Keenan, Ruairi Cunningham, Geraldine McKavanagh, Niall Muldoon, Paul McGurk, Ashelene Groogan, James McAlinden, Kathy Kelly, Paul McKillop, Diarmaid Marsden, Ryan McShane, Proinsias O'Kane, Pierce Caherty, Fionntán O'Dowd and Stephen McGeehan.