St John Bosco's star player is Translink Ulster GAA Volunteer of the Month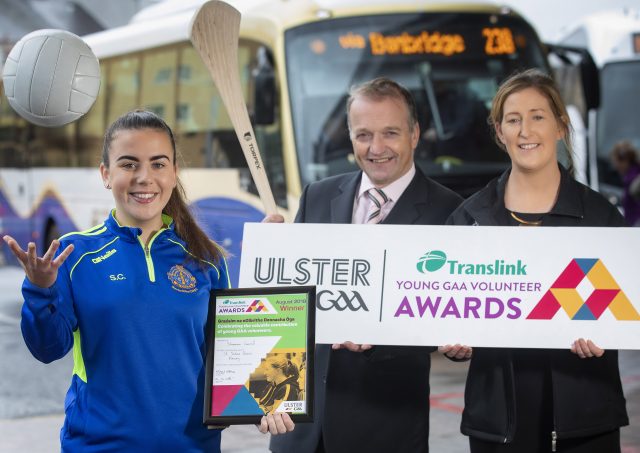 Shannon Carroll from the St John Bosco club in Newry is the latest winner of the Translink Ulster GAA Volunteer of the Month award.
The accolade is presented to one young person each month, whose efforts best demonstrate the volunteering spirit of the GAA.
Shannon came out on top of nominations from clubs across Ulster. The judges were struck by her commitment to youth work and fundraising, both of which she does alongside playing for the senior ladies' football team.
She has been volunteering with her club since 2014 and during this time has been responsible for building links with local schools, co-ordinating Cúl camps and developing innovative coaching sessions for junior players.
Presenting Shannon with her award, Greg McLaughlin, Translink said:
"I am delighted to present Shannon with this award on behalf of Translink. Her enthusiasm for volunteering is clear, as she regularly commits around 30 hours per week to helping others in her community. It's wonderful for us to help celebrate her efforts in this way."
Ashelene Groogan, Ulster GAA, Volunteer Development and Policy Officer added:
"We were really struck by Shannon Carroll's commitment to her club St John Bosco and the impact she is making on the younger players, her commitment to fundraising and Coaching was well deserving of this award, Shannon enrolled on The Ulster GAA's Volunteer Development Programme shows her commitment to continue volunteering in the future."
Applications for the October Young Volunteer of the Month award are now open. To nominate a young person aged 14-24 for the accolade visit ulster.gaa.ie/youngvolunteeraward/