Hundreds of Clubs Officers to receive training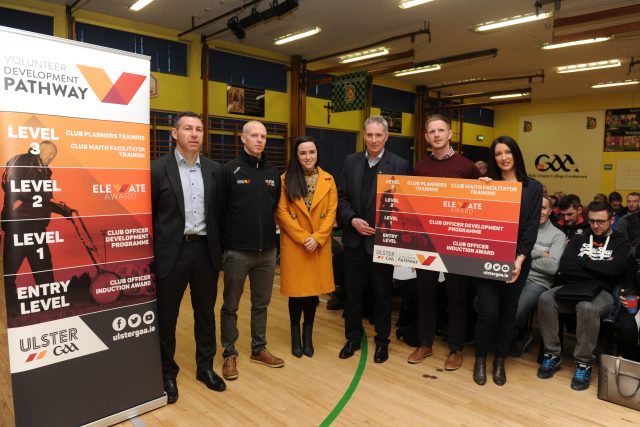 Following the success of Saturday's Club Officer Induction Award, Ulster GAA is about to embark on training for all clubs officers across Ulster as part of the Level 1: Club Officer Development Programme 2019.
Over 100 GAA club volunteers new to their role in 2019 were trained in role specific workshops in Cookstown on Saturday past. Registrars, Coaching Officers, Development Officers, Volunteer Recruitment Officers, Children's Officers and Cultural Officers from across the Province came together to explore their roles and to discuss ways to deal with key issues in 2019.
The training session was a huge success with participants rating the session very highly. Some participant comments included:
"I found the workshop very informative and got more from it than I had expected."
"Excellent course introduction. Really well presented and very clear that there is significant support available. Really need to ensure clubs know how important being trained properly for roles is."
"Very informative course and hopefully will be put in place in clubs."
Focus now turns to all club officers across Ulster for essential training across 4 key issues facing clubs in 2019, namely: Club Maith & Planning; Health and Wellbeing; Office 365; and Irish Language and Culture.
Five training evenings have been planned to take place in January across Ulster, from 6:45pm to 9pm as detailed below:
Tuesday 15th January 2019: Largy College Clones (Targeting clubs in Monaghan, Cavan and Fermanagh)
Thursday 17th January 2019: Holy Cross College, Strabane (Targeting clubs in Donegal, Tyrone and Derry)
Tuesday 22nd January 2019: St Paul's School, Bessbrook (Targeting clubs in Armagh and Down)
Thursday 24th January 2019: St Mary's Grammar School, Belfast (Targeting clubs in Belfast through Gaelfast, Antrim, Derry and Down)
Tuesday 29th January 2019: St Mary's School Magherafelt (Targeting clubs in Derry, Antrim and Tyrone)
Clubs are asked to ensure their club is represented with 4 officers at one training event and are encouraged to attend whichever one is most convenient for them. Registration is now open and club volunteers should log onto www.ulster.gaa.ie/VolunteerDevelopment2019 to sign up for a place.
An overview of the training workshops are as follows:
Office 365: This is a practical session and participants are asked to have access to an official club email account and password for this training. Facilitators will take the participants through various different capabilities of the Office 365 system, including email, Distribution lists and One Drive. This is a computer based practical session and numbers are limited
Club Maith and Club Planning: Facilitator Fionntán O'Dowd will give participants an overview of the Club Maith Accreditation Scheme and how it has moved to an online platform to make the process more user friendly. Attendees will also be provided with information on the Club Planning Programme and how it is designed to support clubs in the development, implementation and review of three-year Club plans.
Healthy Clubs: Through this workshop, Maura McMenamin will look at the role of the Healthy Club Officer, the Healthy Club Programme, and will explore practical ways in which to plan and implement meaningful health and wellbeing programmes within your club.
Language and Culture: This workshop, delivered by Tricia Ní Chearra aims to inform participants of schemes, initiatives and various funding opportunities to assist in embracing culture in your Club, to incorporate Irish into Club Life, and to overcome difficulties in the promotion of Irish Culture at Club Level.
Registration is now open for all training events and all clubs across all Ulster counties are encouraged to attend this training, which is a requirement of Club Maith. The training is designed to be a one-stop event for governance issues facing clubs in 2019. For more information log onto: www.ulster.gaa.ie/VolunteerDevelopment2019 or contact Sharon Haughey-Grimley by email Sharon.haughey.ulster@gaa.ie or phone Sharon on 028 37517 180.