Irish News launch School, Club and Volunteer Awards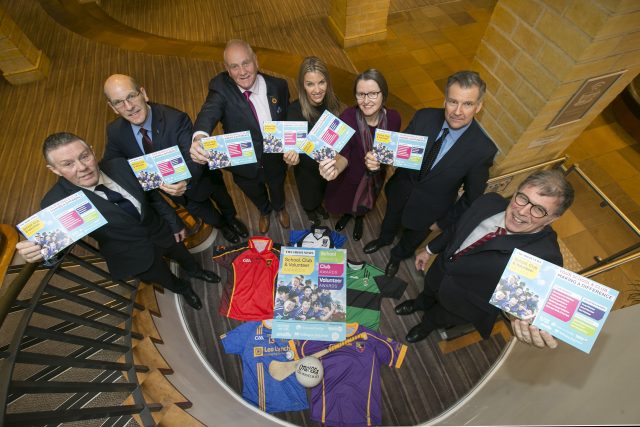 The Irish News have recently launched the 2019 School, Club and Volunteer Awards, the 17th annual edition of the awards.
As the GAA has evolved within communities where areas of health, coaching, underage and club development are important cornerstones, the awards have evolved to reflect this evolution.
Working alongside new sponsors Chest, Heart and Stroke, the Irish News has retained the Irish Language award, in conjunction with Foras na Gaeilge, which was first introduced two years ago.
The winning clubs and schools will not only walk away with the coveted Irish News Club or School of the Year title, but also £500 from The Irish News and a £500 voucher from O'Neills.
Ulster GAA is delighted to have partnered with the Irish News to support the awards celebrating the contribution made by volunteers to the association.
Ulster GAA President Oliver Galligan said:
"Ulster GAA is very pleased to once again support the Irish News School, Club and Volunteer Awards in 2019 and I urge all Ulster clubs and schools to get involved by entering their submissions.
"I look forward to recognising some excellent initiatives across all categories at the awards ceremony in May."
"The awards recognise the best talent and work that GAA volunteers carry out at school and club level. I once again encourage all Ulster clubs and schools to enter.''
Irish News editor Noel Doran added his weight to the awards, saying:
"There is colossal work being carried out by GAA clubs and volunteers right across Ulster and our awards are designed to help highlight this. Whether you are involved as an individual, in a school or in a club, I would encourage you to get your thinking cap on and take advantage of this great initiative."
Irish News sports editor, Thomas Hawkins added:
"It's that time of year again, and our School, Club and Volunteer Awards initiative always proves very popular.
"Last year, we introduced new categories, making it easier for clubs and schools to apply it really was a resounding success. I'm sure that trend will continue. My thanks to all the sponsors for coming on board for this excellent initiative.''
The application process is designed to make it easier for clubs and schools, who can enter by simply submitting a 200-word application in as many categories as they like.
To mark the fact that April is a designated month for clubs, entry into the awards will remain open for the entire month of April, with Monday, April 30 the closing date for entries.
All the information, including how to enter, is available at www.irishnews.com/scv
CATEGORIES
CLUB AWARDS
Underage Initiative of the Year
Coaching Initiative of the Year
Club Development Initiative of the Year
Well-Being Initiative of the Year
Irish Language Initiative of the Year
Overseas Club of the Year
SCHOOL AWARDS
Primary School of the Year
Post-Primary School of the Year
School Well-being award
VOLUNTEER AWARDS
Club Volunteer
School Volunteer
Young Volunteer