Ulster Championship Ticket Price Reductions and Packages announced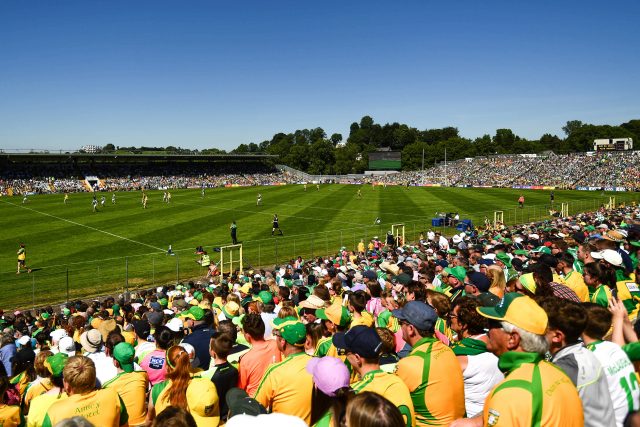 Following increased attendances at the AIB Ulster Club Championships and the Bank of Ireland Dr McKenna Cup, Ulster GAA have announced ticket prices and admission offers for the 2019 Ulster Senior Football Championship.
This year's draw has thrown up some exciting ties with the first ball being thrown in at Healy Park, Omagh on Sunday 12th May for the first round clash of Tyrone v Derry. The quarter-final match-ups to follow this will be Cavan v Monaghan (Sat 18th May), Down v Armagh (Sunday 19th May), Antrim v winner Tyrone/Derry (Sat 25th May) and Fermanagh v Donegal (Sun 26th May).
To ensure that as many supporters as possible have the opportunity to enjoy the Ulster Championship a special 'Buy Early' offer remains in place, with savings of up to 30% versus tickets bought on the day of the game.
Ulster GAA Provincial Secretary Brian McAvoy commented:
"Ulster GAA has taken feedback from stakeholders on last year and felt that there was merit in separating ticket prices for first round/quarter-final games and semi-final games. Accordingly, stand ticket prices for the first round and quarter-final games have been reduced by up to 17%, with a pre-purchased ticket now only £20/€25.
"There will also be reductions in open stand prices for the games in Kingspan Breffni and Brewster Park. The price of a terrace ticket has been frozen for all games, as have all ticket prices for semi-finals and the Ulster Final on 23rd June. We want to provide ticketing offers and options to as many of our loyal county supporters as possible."
Concession tickets for senior citizens and students will be available for all games. These tickets can be purchased through county boards and give an average saving of 30% on the full ticket price.
For 2019, three additional ticket offers will be made available for the Championship. The Ulster GAA Group Pass is available to clubs for the first round and quarter finals as an incentive to bring youth teams to experience their county in Championship action. Juvenile terrace tickets are priced at £5/€5 and one adult goes free for every ten juveniles.
The Ulster GAA Club Pass is also available for first round/quarter-final games and offers reduced price terrace tickets to club groups of between 15 and 50 adults. These tickets are priced at £13 (normal £15) and €15 (normal €18).
The third package, the Triple Play ticket, will guarantee Ulster football supporters entry and a seat to both USFC semi-finals and the final, for the reduced price of £65/€70. This equates to a saving of 30% on match day prices.
Further information on Ulster Championship fixtures, ticket prices and special offers is available at https://ulster.gaa.ie/ulsterchampionship2019
Tickets are now on sale from tickets.ie and in participating Centra, Supervalu and O'Neill's Sports Stores.