Ulster GAA, Ulster Rugby and the IFA deliver Volunteer Development programme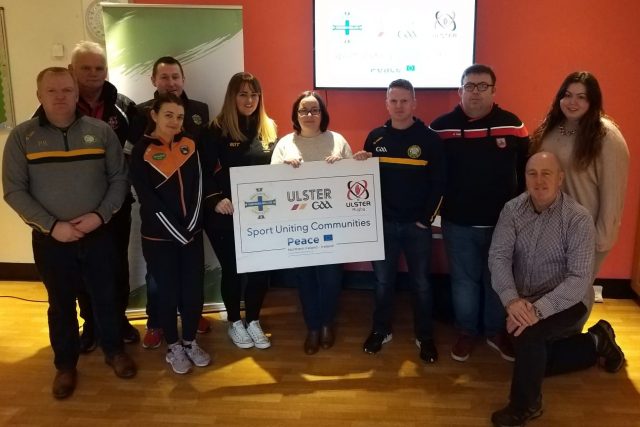 February and March  saw Ulster GAA, Ulster Rugby and the Irish FA deliver five successful Volunteer Development Days as part of the Sport Uniting Communities PEACE IV Programme.
These events where held in Olympia Leisure Centre, Banbridge Leisure Centre, Dungannon Swifts Football Club, Ulster University Sports Centre, Coleraine and Bawnacre Centre, Irvinestown.
The development days were largely interactive and involved clubs from all three sports coming together to build relations, share knowledge and gain the tools to develop and sustain their clubs.
Irish FA Community Sports Development Officer, Kris Lindsay commented:
"Our Volunteer Development Days were a great success. We had representatives from 45 clubs involved over the five days and this is the first part of their year-long involvement in the PEACE IV Programme, which hopes to build relations and develop volunteers and clubs across the three sports."
During the training days, representatives from each club took part in workshops on topics such as:
Recruiting, Retaining and Rewarding Volunteers
How to be an Inclusive Club
Succession planning
Funding Opportunities available.
Declan Deazley from Ederney GAC, who took part in year 1 of the Volunteer Development Programme has reported back the positives the year long engagement programme has had on his club
"The programme really helped us, especially the Game of 3 Halves with the local primary school, as we have increased our club numbers, particularly from other communities. This event has now been introduced to their shared education programme and is being reflected at the club."
The Volunteer Development Programme created an environment where clubs were able to openly engage and discuss the impact volunteering has on their club and make plans to work together on shared events.
Rob Rossiter, Newry RFC Youth Convenor said:
"As a small but vibrant rugby club at the heart of the local community, we rely heavily on our volunteers. This is especially the case for our successful youth section as through the volunteer development days we can encourage their own personal growth, which will only benefit Newry Rugby."
Another participant commented:
"The Sport Uniting Communities programme is a very worthwhile initiative by the three sports. The workshops were engaging and relevant, but the best part of the day was the discussion with other clubs from other sports, building relations and learning from each other with the hope that we can all work together in the future to deliver sporting opportunity for our young people."