Lough GAA Handball Showdown provides feast of quality action
The sixth annual Lough Handball Showdown in Loughmacrory served up another feast of high octane and quality handball over the weekend. Over 200 of the top players from all over Ireland travelled to the mid-Tyrone venue to bid for major titles which now rank extremely high on the national calendar.
This high profile event has already established itself as one of the biggest and most prestigious GAA Handball events on the National Calendar attracting many Irish Nationals champions to travel and put their credentials to the test against the very best in their grades. A total of 257 matches were staged over the weekend at the top quality local facilities with 216 players from 19 counties in all competing for the titles on offer.
In the blue-ribband events, the Mens and Ladies Open, that was very much the case and in both competitions the large crowds were treated to handball of the highest quality.
Mens Open Final
The Mens Open title was going to see a first-time winner in 2019 with World Champion, Conor McElduff (3 – 2015, 2017, 2018) and Puerto Rico's Wally Amaro winning the previous five titles and McElduff unable to challenge in 2019 due to injury.
Vying for the 2019 honours and a first success in the event was recently crowned (and two-times winner) Irish Nationals Champion, Galway's Martin Mulkerrins, and the player he defeated in Breaffy Sports Arena at that Nationals Final two weeks earlier, Breacach's Sean Kerr. Following some fantastic action, including a tough tie-break semi-final victory for Mulkerrins against Louth's Ben Devlin, the Lough Showdown decider on Saturday night brought a repeat of the 2019 Nationals final.
This time around though it was local man, Sean Kerr, who was in blistering form in front of a large Tyrone crowd and his speed, retrieving, power passing and killshots were a treat to watch as he blitzed his way to a first Lough Showdown crown with a 25-10 victory against the Irish Nationals Champion.
Ladies Open Final
Following some top class fayre in the Ladies Open Grade the final came down to a shoot-out between the reigning Lough Ladies Showdown Champion, Armagh's Megan McCann, and former two-time World Champion, Antrim's Aisling Reilly. Reilly led for the majority of the final with some sensational two-handed shooting at angles to the corners but the title holder rallied at 18-21 down to produce a series of sensational kill and pass shots to determine the destination of the title with five unanswered points. Megan McCann thus picked up her third Ladies Open Showdown title with a 23-21 triumph.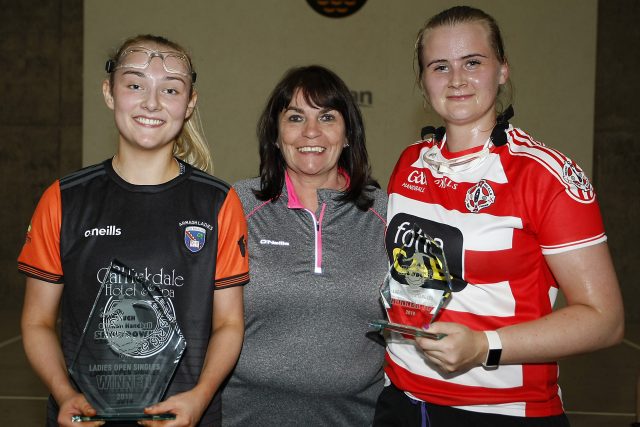 Other Finals
Elsewhere in the adult grades there were eye-catching wins for Ben Devlin in the Mens A Final, defeating Monaghan's Darren Doherty in the final while local girl, Clare Conway, just missed out on silverware as she fell to Armagh's Caioliosa Ni Dhiuil in the Ladies A Final. Down's Daire Savage had an impressive win over local clubman, Conor Duff, in the Mens B Singles while Down's Michelle McCoy defeated Armagh's Maighread Ni Dhiuil in the Ladies B equivalent.
At Masters level, Loughmacrory clubman Chris Curran came through a tough field to deny Antrim's Paul Graham in the Masters A final while Mayo's George Miller defeated Monaghan's Peter Larkin to claim the Golden Masters title.
The Mens Challenger title also headed west to Mayo as Mark Gibbons denied Monaghan's Padraig McGeough in the final of a highly competitive grade while the Mens C title went to Wexford following the victory of Dara Cloake against Monaghan's Dermot Boyle in the final. Antrim's Brona Reilly emerged the winner of the Ladies Challenger title, ahead of Tyrone's Catherine Kelly, while Antrim's Deirbhile O'Neill won the Ladies Contender honours and the Men's Contender honours went to Kilkenny's Frank Manogue, who overcame Antrim's Conan O'Neill in the final.
Top quality Junior Boys action
There were some outstanding highlights in the Junior Grades at the weekend, with those finals taking centre-stage on Sunday. Wexford's Mark Doyle followed up his Irish Nationals Boys 17 & Under title win with a highly impressive triumph in a hugely competitive win in the same grade, taking the honours with a final win against Carrickmore's Cahir Munroe. Armagh's Fiachra Ó Dhiuil was another brilliant winner at the weekend, taking the Boys 15 & Under title with a final victory over Galway's Stephen Kelly.
Cavan's Matthew Smith was arguably one of the most impressive players over the weekend as he too followed up his Irish Nationals success with an eye-catching victory over Monaghan's Sean Callan in the Boys 13 & Under final. Galway's Caleb Donnellan was a very impressive winner in the Boys 11 & Under singles, defeating his county colleague, Bertie Donohue in the final while there was local celebrations as talented young Loughmacrory player, Ciaran McCrystal, claimed the Boys Under 10 title with a win over Greencastle's Tarlach Tracey in the final.
Junior Girls action
Carrickmore's Clodagh Munroe was another player who doubled up from her Irish Nationals success as she defeated Galway's Emma Kinane in an excellent Girls 15 & Under decider while Down's Sarah Havern collected the Girls 13 & Under honours with a final win over Breacach's Aoife Kerr. At 11 & Under in the Girls code there was one of the best finals of the day before Greencastle's Caislin Tracey defeated Loughmacrory's Laura Duff to take the honours.  Galway's Tamia Kelly was winner of the Girls Under 10 title with Galway's Freya Donnellan taking the runner-up spot.
Overall this was another fantastic weekend of GAA Handball action with the host club exhibiting why it is regarded as one of the foremost clubs in Ireland. In a year in which Loughmacrory GAA Handball Club are celebrating 50 years since the opening of the club's covered 60×30 court and launching a new book "150 Years of GAA Handball", this was once again another major milestone in what has been a hugely successful journey for all involved with the club.
Report by Chris Curran