Golden Girl Kelly swaps the slopes for a sliotar as she and Wheelchair Hurling project chase awards glory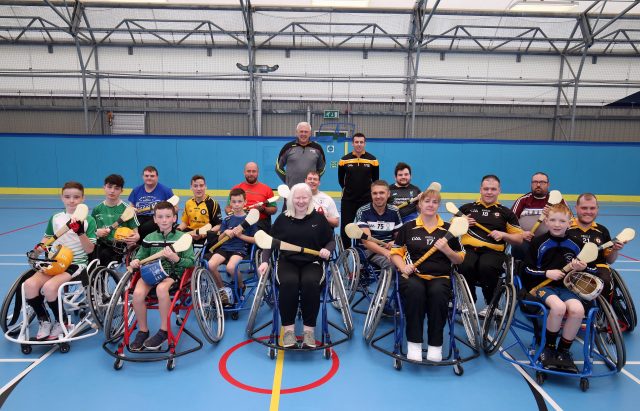 Paralympic gold medalist Kelly Gallagher swapped her ski sticks for a hurley stick as she joined Ulster GAA's wheelchair hurling project for a special game as both aim to win 25th Birthday National Lottery Awards.
Kelly took part in a training session with wheelchair hurlers in the Mid-Ulster Arena in Cookstown and showed she is as handy with a sliotar as she is on the ski slopes.
Both are battling for public votes in the 25th Birthday National Lottery Awards. Kelly, who is visually impaired and won Team GB's first ever Winter Paralympic gold media in Sochi 2014, is one of 12 athletes competing in the Sporting Legend category.
Ulster GAA's wheelchair hurling initiative, which makes hurling more accessible for people with disabilities, is up against nine other organisations hoping to be named Best Sports Project.
The 25th Birthday National Lottery Awards are the annual search for the public's favourite National Lottery funded projects and celebrate the inspirational people who do extraordinary things with the help of National Lottery funding.
The organisation or athlete with the most votes will be crowned the winner and receive a £10,000 cash prize, an iconic National Lottery Awards trophy and attend a star-studded glittering awards ceremony to be broadcast on BBC One in November.
Kelly said: "I had a really enjoyable time taking part in wheelchair hurling. It was great fun and a fantastic idea to help people with disabilities enjoy the sport of hurling.
"I was hugely impressed by the skill, strength and determination of the players and the vision and innovation of their coaches.
"National Lottery funding has been invaluable to my career and I am delighted to see it make a difference by supporting wheelchair hurling too. Ulster GAA's wheelchair hurling project thoroughly deserves their nomination in the Best Sports Project category of the 25th Birthday National Lottery and I would encourage people to vote for them."
Shane McCann, Ulster GAA's Active Clubs co-ordinator, added: "We were delighted to welcome Kelly Gallagher to our training session. She proved to be a great sport – and quite a good player.
"Kelly is an inspirational figure in local sport and role model for us all. Like many of our participants she has not let her disability hold her back and has reached the very pinnacle of her sport.
"There is no doubt she is a true sporting legend and we are grateful for her support for our campaign to win a 25th Birthday National Lottery Award. And likewise we are fully behind her as she attempts to win the Sporting Legend category. Let's hope we can do a double."
Jonathan Tuchner, from the National Lottery, added: "It's thanks to National Lottery players, who raise more than £30 million each week for good causes, that brilliant projects like those in the finals of the National Lottery Awards are possible.
"Kelly Gallagher's achievements on the ski slopes are remarkable and her place among local sporting legends is already secure. Ulster GAA is doing an incredible job creating more sporting legends through their Wheelchair Hurling project.
"Both thoroughly deserve to be in the finals of the 25th Birthday National Lottery Awards and with your support they could be winners."
National Lottery funding from Sport Northern Ireland's Active Clubs programme helped Ulster GAA employ two co-ordinators who have been responsible for developing the project which makes the sport more accessible to wheelchair users and people with disabilities.
Through support from National Lottery funding, Kelly Gallagher's success came with access to the World Class Performance Programme which includes support from world's finest coaches, state of the art medical assistance, access to cutting edge technology and the opportunity to concentrate solely on training and competing.
To vote go to lotterygoodcauses.org.uk/ awards or tweet to cast a vote for #NLAWheelchairHurling or #NLAKellyGallagher. You can also follow the campaign on Twitter at hashtag #NLAwards. Voting runs until midnight on 21 August.
The award categories reflect the main areas of National Lottery funding: heritage, sport, arts, culture and film, community and charity and sporting legend which will be decided by a public vote alongside lifetime achievement, young hero, special recognition, and twelve local legend awards, which will be selected by a panel made up of representatives from the National Lottery family.
The first National Lottery draw took place on 19 November 1994.  The 25th birthday is a moment to celebrate the extraordinary impact The National Lottery has had on the UK and, most importantly, to say thank you to National Lottery players for contributing tens of millions of pounds every week to good causes.
Whilst The National Lottery is all about winning – with more than 5,350 millionaires created since 1994 – its primary purpose is all about giving. National Lottery players have raised more than £40 billion for good causes in the areas of arts, sport, heritage and community over the past 25 years. More than 565,000 National Lottery grants have been awarded since 1994, the equivalent of around 200 life-changing projects in every UK postcode district helping to strengthen communities, deliver sporting success, protect the environment, unleash local creative talent and look after the elderly and those at risk.