July Young Volunteer Winner is a role model for her County Down club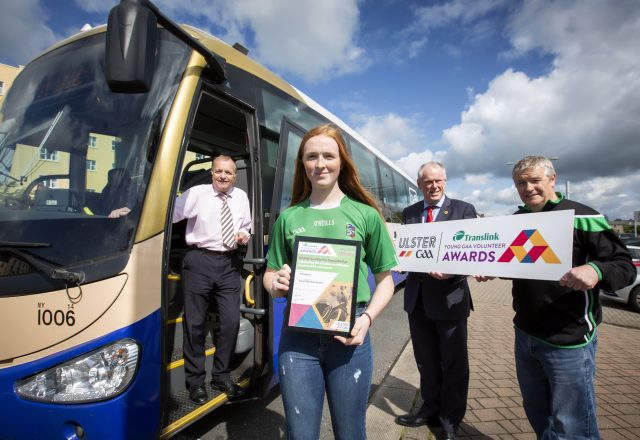 The Translink Young GAA Volunteer of the Month for July has been awarded to Erin Byrne, following inspirational volunteering at her club Saval GAC, County Down.
14 year old Erin Byrne has been volunteering with her club for some time now and during July excelled with the time and contribution she made to her club.
Erin volunteered at Kelloggs Cul Camp and Gaelic4Mothers & Others, and she also encouraged two new volunteers to get involved.
Ulster GAA President Oliver Galligan said: "It's so inspirational to see a young woman so willing to help out and get involved in her GAA club making it a better place. Erin is a role model to her peers and the younger members of the club and is a very deserving recipient of this award."
Greg McLaughlin from Translink said: "It's refreshing to see people like Erin give their time to make a real and positive impact on their community. It's stories like this that should be promoted and encouraged. I congratulate Erin on winning this award, her club is lucky to have her involved."
Anthony Crozier, Saval Development Officer said: "We are so proud of Erin winning this award, her contribution is outstanding.  In July she had asked to help-out at Kelloggs GAA Cul Camp which ran from Monday 15th July – Friday 19th July. Erin was there everyday on time from 9.30am to 2.45pm which equates to 26 hours 15 minutes. She was well liked by the children and was highly thought of by the Coaches. In fact, the Lead Coach remarked on how good she was."
"On Saturday 27th July Erin once again volunteered to help with the Club's Annual Gaelic4Mothers & Others with 17 teams participating. She showed teams to their appointed changing rooms, assisted with registration and tuck shop. She stayed for the duration of the Blitz and helped with the clean up afterwards. The total time at the Blitz was almost 5 hours.
"It was great to see such a young person give up so much of her time to help her club. She will continue volunteering and will be involved in our Underage Tournaments which takes place in August.
"At the Blitz she got two of her friends to come along as well so hopefully they will continue with volunteering.  I have no reservations that Erin deserves the recognition of volunteer of the month."