Young Tyrone Gaels learn the skills to save a life thanks to British Heart Foundation NI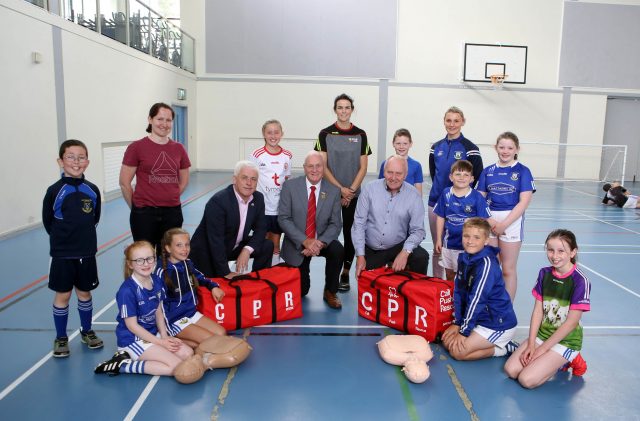 Young Gaels from across Tyrone have been learning vital lifesaving CPR skills in their summer camps as part of a joint initiative between Ulster GAA and the British Heart Foundation Northern Ireland (BHF NI).
Around 800 children and young people from the county have been taking part in summer camps in their local GAA club over the past number of weeks and as part of the camp have been learning how to save a life.
They have been learning CPR using BHF NI's Call Push Rescue kits. The simple and interactive kit includes a tutorial DVD, making CPR training much more accessible meaning even more people can become lifesavers.
CPR is required immediately when someone suffers a cardiac arrest, which means the heart stops pumping blood around your body. There are around 1,400 out of hospital cardiac arrests in Northern Ireland every year, but less than one in ten people survive. BHF NI warns that the failure of bystanders to intervene is needlessly costing lives every day.
Head of BHF NI Fearghal McKinney congratulated the young participants and the GAA family for equipping them with the vital skills to save a life.
Fearghal McKinney said: "I'm delighted that Tyrone GAA, in conjunction with Ulster GAA, are leading the way, and teaching their young members to become lifesavers. There have been too many young lives lost in sport because of a sudden cardiac arrest and it is vital as many people as possible know what to do when the worst happens.
"When someone has a cardiac arrest it most likely won't be a stranger in the street it will be your mum, dad, club mate or colleague and standing by while the minutes tick by not knowing what to do is devastating.
"We need everyone to learn this life-saving skill to give them the confidence to step in and give CPR when someone collapses after a cardiac arrest. It could mean the difference between life and death."
BHF NI's Nation of Lifesavers campaign aims to equip all young people and adults with the vital CPR skills to help save a life. To date, more than 65 per cent of post primary schools in Northern Ireland have signed up for, and are delivering, BHF NI's Call Push Rescue training. The charity would like to see CPR training mandatory on the school curriculum here.
Tyrone's Health and Wellbeing Chairperson Malachi McCann has welcomed the training: "It is fantastic to have so many of our young players trained in life-saving skills. The programme is so simple to roll-out and yet may prove to be so important for so many. I would encourage all clubs to consider rolling-out the programme in their clubs in the coming months."
Maura McMenamin, Community and Health Manager with Ulster GAA said: "Our link with BHF NI has been in existence for over 10 years through delivery of the Heartstart programme, and this latest Call Push Rescue programme extends the impact in a simple yet effective way into communities. Clubs are to be commended for getting involved, and we hope many more will grasp the opportunity also."
To help the BHF create a Nation of Lifesavers, or find out how you can teach CPR in your school, workplace or community group visit www.bhf.org.uk/cpr