Antrim and Ballymoney Cúchulainns Celebrated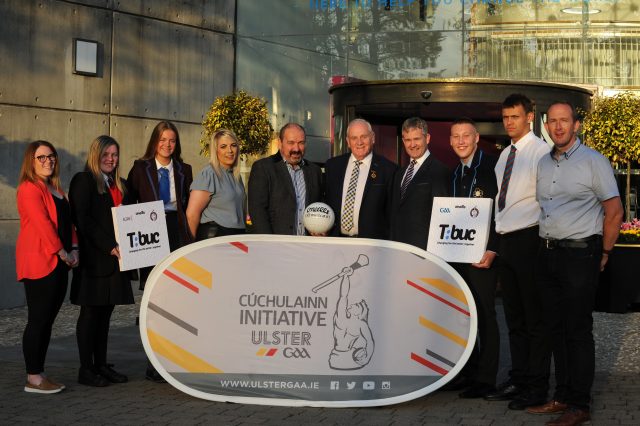 To conclude this year's Cúchulainn Initiative and as part of Good Relations Week, Ulster GAA President Oliver Galligan hosted the Antrim and Ballymoney Cúchulainns who participated in the programme in 2019 and represented Ulster at the All Britain Competition in London in July.
Speaking from the event held at the ECOS Centre, Ballymena, Ulster GAA President Oliver Galligan said: "We are delighted to recognise the efforts and commitment of the four schools, Parkhall Integrated College, Crumlin Integrated College, Dalriada School and Our Lady of Lourdes School to the Cúchulainn Initiative. This is the first time that we have included a girls team in the initiative and we are delighted how well they have embraced the ethos of the project.  The schools, the boys and girls and their parents have all shown real leadership and commitment to good relations.  The Antrim and Ballymoney Cúchulainns have represented themselves, their schools and their towns with distinction throughout the Cúchulainn Initiative and also in London at the All Britain Competition."
Congratulating all those who took part, the Mayor of Causeway Coast and Glens Borough Council Councillor Sean Bateson said: "The Cúchulainn Initiative is an inspiring example of good relations in action, and I was delighted to have this opportunity to meet with some of the recent participants. Taking part in sport encourages young people to develop life-long skills and values including team work, communication and resilience. This project goes beyond this by bringing people from different backgrounds together, developing shared objectives and showcasing the unifying power of sport."
Also, in attendance, the Deputy Mayor of Antrim and Newtownabbey, Councillor Ann Marie Logue said: "It was an honour to attend this event to celebrate the achievements of the programme. We are extremely proud of those pupils from Parkhall and Crumlin Integrated Colleges who represented our Borough in this inspirational programme. It's fantastic to see our young people from different community backgrounds coming together and building relationships."
Ulster GAA's Cúchulainn Initiative is supported by The Executive Office through the Central Good Relations Fund, and speaking at the event, Andy Cole, Director of Good Relations & T:BUC said: "Young people are a key focus of the Executive's Good Relations Strategy 'Together: Building a United Community'. One of its main aims is to create the conditions where young people can play a full and active role in building good relations. The young people who participated in the Ulster GAA Cúchulainn Initiative are putting into practice that vision of reconciliation through sport."
For more information on the Cúchulainn Initiative please contact Fionntan O'Dowd on 028 (048) 37521900 or email Fionntan.odowd.ulster@gaa.ie.