GAA Webinar for Primary Teachers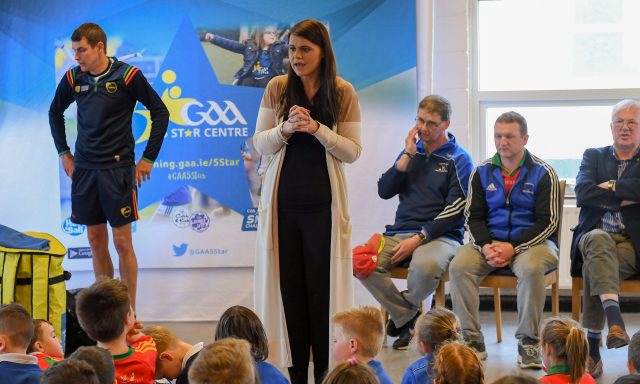 The GAA 5 Star Centre initiative is exploding with popularity, with over 700 schools and 100,000 children participating for the 2019-2020 school year. The initiative aims to ensure that every child gets 60 minutes of physical activity per week, thereby contributing to their health and well-being. In response to this, the GAA will be broadcasting its first ever live webinar for Primary Teachers on how your school can become a GAA 5 Star Centre on Wednesday October 23rd from 3.15 p.m. to 4 p.m.
The webinar is proving popular among practising and student teachers, with over 150 signed up already. Many plan on watching it in groups after school on a whiteboard as part of their 'Croke Park' hours requirement. Other teachers plan on watching it from their mobile devices, with a view to relaying the information to colleagues. One primary school that will have all staff watching is Tinryland N.S. in Carlow.
Principal, Orlaith Hennessey will be a member of the discussion panel of teachers & principals sharing their experiences of becoming a GAA 5 Star Centre.
Principal Hennessey notes that: "we were thrilled to become a GAA 5 Star Centre. The online sign-up process is quick and easy. We had a planning meeting with Sean Gannon of Carlow GAA, who explained what the programme entailed and how he could contribute. Carlow GAA development staff provided training for Teachers after school. The range on online and print learning resources are relevant to the curriculum and are user-friendly. It is good to have some external coaching from development staff and club volunteers. But we see this programme as a teacher-led initiative. We believe that the 5 Star Centre is way of facilitating self-sufficiency and sustainability in our promotion and development of Gaelic games and wider physical activity in the school."
"The children love the wide range of activities. It not only includes the full spectrum of Gaelic games, but fundamental movement skills development and the non-contact game of Fun & Run. The 5 Star Centre is a great way encouraging Teachers and pupils to be more physically active. Every class does a at least 6 hours of any activity they wish over six weeks, including our two Special Classes. In addition, one or more of the classes or groups does 26 or more hours across the school years. 74 hours of activity was our target. What we found is that the we doubled this. We include lunch-time yard games where 5th & 6th pupils, under Teacher supervision, organise yard games – Strike It and Catch & Kick – for the younger pupils. We also play lots of Go Games after school."
"The GAA 5 Star Centre is the complete package for any school beginning the journey of developing physical literacy, as well as for those trying to enhance their established sport and physical activity programmes. Most importantly, it gives every single child in the school, including those with disabilities, an opportunity to have a positive experience of Gaelic games. We are proud to have a GAA 5 Star Centre flag flying above our school and are delighted to be continuing the programme next year."
"It's an honour to be part of the webinar discussion panel with fellow Múinteoirí Bunscoil. It promises to be a positive learning opportunity for practising and student Teachers on the unique benefits of becoming an official GAA 5 Star Centre."
To participate in the GAA 5 Star Centre webinar, register for free at https://learning.gaa.ie/5Starwebinar