Nothing too much for inspirational young GAA volunteer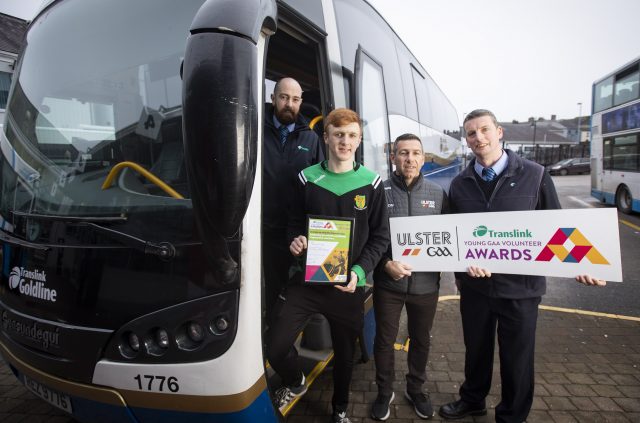 Padraig Doyle, from St Mary's GAA, Granemore has been awarded Translink Young GAA Volunteer for November for his impressive commitment to assisting with coaching in his Armagh club.
Ulster GAA President Oliver Galligan said:
"We had another month of impressive nominations for this Translink Monthly Award, and Padraig Doyle stood out for his mammoth commitment to developing underage players at his club.
"It's extremely inspirational to see a young man, who plays the sport, is studying and is dealing with a family illness at home, yet still finds the time to come out and help develop young players – giving them a positive outlet.  Padraig is a role model to other young gaels and a very fitting recipient of this award."
Gerry D'Arcy from Translink said:
"It's always a highlight for everyone at Translink to meet inspirational young volunteers and to hear their unique stories of giving back to their community through the GAA. There is no doubt that Padraig has juggled a lot of commitments against the backdrop of a tough year for him personally. He is an inspiration to all those around him."
Steven Lennon, Assistant Secretary at St Mary's GAA said:
"The club is extremely proud to nominate Padraig for this award and we are delighted that he has been selected as winner for November.  Padraig has shown outstanding effort to volunteering within the club over the last year, helping with coaching the Under 12.5 boys football team.
"To facilitate the Under 12.5 training, Padraig has adjusted his work schedules so that he can make coaching while also still attending his own minor training and games coupled with senior training. Padraig always goes the extra mile with the Under 12.5s and this has been particularly evident through his little words of encouragement to the players on the corridors in school, to help with their transition from primary to secondary (as acknowledged by a number of parents).
"Padraig has endured a tough year, supporting a family member battling illness and still never let the boys down. Well done Padraig!"