Ulster winners at Gradaim an Uachtaráin 2020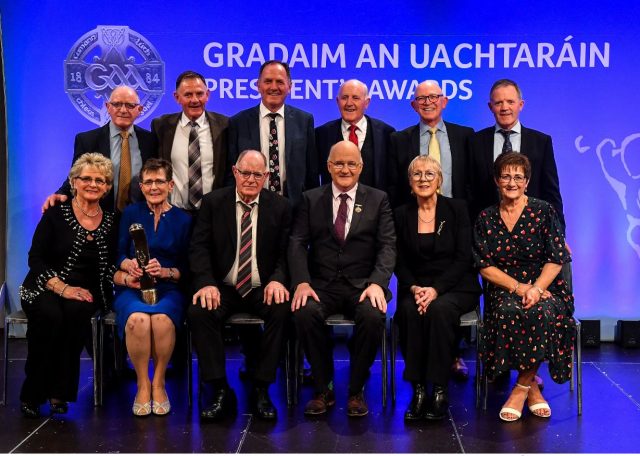 The GAA in Ulster had a number of recipients for Gradaim an Uachtaráin 2020, which were presented at a special banquet in Croke Park tonight.
These prestigious annual awards, organised with the support of AIB, afford Uachtarán CLG with an opportunity to acknowledge outstanding commitment and long service across the club and county network.
The 11 awards are a cross-section of people who have shared the common theme of making an inspirational impact on their code and also their club and community.
Uachtarán Chumann Lúthchleas Gael Seán Ó hOráin said: "The GAA exists because of the volunteer effort of inspirational people.
"The impact and infectious enthusiasm of these people is the beating heart of what our great Association has grown to be for more than 130 years.
"These awards present us with an all too rare opportunity to stop and reflect and say thank you to a group of people who have made and who continue to make a life-long contribution to the GAA and who are such magnificent role models.
"There are 11 awards presented here across all codes and all walks of the GAA life. In their own way they are ambassadors and shining examples of the countless other volunteers at home and abroad who give so much of themselves for the betterment of the GAA and who we are proud to be able to call our own"
The 11 awards are made on a provincial and code basis. As well as Gaeilge, Education and International Awards, the presentation of the annual Dermot Earley Family Award was made.
DERMOT EARLEY FAMILY AWARD – The McGovern Family, Burren GAA, Down
The McGovern family from Burren in Co. Down are steeped in the GAA tradition. The twelve siblings (nine boys and three girls) were born to their parents Eileen and Jimmy between 1942 and 1960. Previous to that, Eileen's brother, John McClorey, became the first Down footballer to play for Ulster in a Railway Cup final in 1941.
The nine boys all represented St. Mary's, Burren with distinction from underage through to senior level, with five of them going on to represent Down at senior level. Two of the other four brothers also represented Down at different levels.
Daughters Susan, Marie and Bríd were their supporters in chief, fiercely committed to the exploits of club and county and who have seen their own children and grandchildren make a massive contribution to the Burren and Down both on and off the field.
Tommy, a holder of three Railway Cup medals, along with Vincent won Ulster Senior Football Championship medals with Down in 1978 and 1981, with youngest brother Brendan joining them for the 1981 triumph, when Tommy captained the team. Tommy and Brendan also won National Football League medals in 1983.
Brendan won All-Ireland Minor and U-21 medals in 1977 and 1979 respectively, while Tommy (captain) and Vincent played in the 1977 All-Ireland U-21 final.
The oldest male siblings Johnny and Frank played on the first Burren team to win a Down Senior Football title, back in 1966, and Johnny was manager when the club next won it 25 years later. Six of the brothers (including Frank) played in that 1981 Championship with Eddie scoring the winning goal in extra-time of the replayed final.
It was two of the McGovern brothers who captained their beloved Burren to their All-Ireland Club title successes; Tommy in 1986 and Vincent in 1988.
The next generation also made and continue to make their mark at both club and county levels. Six children of the McGovern siblings have represented Down at senior level, most notably Micheal Magill, who won an All-Ireland medal in 1994, Sean Ward who captained Down in the 2003 Ulster Final and Gearard McGovern who won a Railway Cup medal in 2016. Two others have played Minor football for Down, another is Chair of The Young Ireland's GAA Club in Melbourne and another co-managed the Glasgow Gaels team which reached the British Junior Football final last year.
The McGovern family in full are Vincent, Frank, Johnny, Liam, Seamus, Eddie, Joe, Tommy, Brendan, Maire Ward, Susan McGill and Briege Curtis.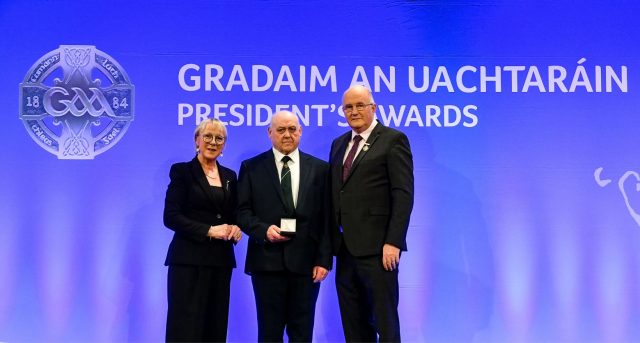 ULSTER AWARD: JAMES MCELHATTON – Naomh Colmcille, An Charraig Mhór, Tír Eoghain
Jimmy McElhatton has been a cornerstone of the Charraig Mhór club in Tyrone for five decades and has served with distinction as a player, referee, coach, administrator and volunteer over that half century.
His involvement with the historic three in a row winning Senior Championship team of 1977-79 remains one of his proudest moments – but by no means is the extent of his contribution to this club.
For 30 years he has been the groundsman at Páirc Colmcille, he has served on numerous committees and also had a career as a respected referee within the county.
His involvement and passion for the GAA has also seen him play an important role at promoting Irish culture and he has travelled far and wide representing the club with distinction through Scór at various levels.
He was elected Club President in 2015 and his willingness to answer the call for the club has endeared him to its members. Together with his wife Rose, he has passed on his love of the GAA to their children and grandchildren who are proudly following his example.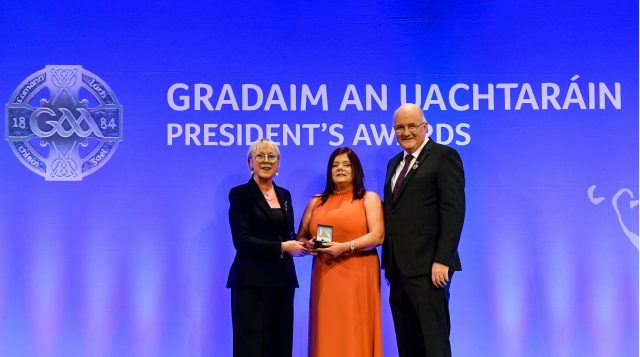 LADIES FOOTBALL AWARD – MAGGIE SKELTON, Achadh Uí Arain, Tír Eoghain
Maggie Skelton has lived and breathed Tyrone Ladies Gaelic Football for more than 15 years. Her passion and drive for the game is evident in everything that she does and has enabled her to carry the heavy workload of county secretary with consummate ease.
That willingness to go above and beyond is truly inspirational and she never seems happier than when she is at training and games and looking at teams of all age levels enjoying their sport.
She has had a huge impact on the county senior team in the last number of years as the team liaison officer and has been a key figure in the planning and organising of match days. It is hugely appreciated by the players that no stone is left unturned in arranging everything the players need to perform to their best.
Her tireless capacity for work means that she is an active delegate at Ulster council as well as being effective in other capacities such as stewarding at matches, assisting with gates and selling programmes – making a positive impression in everything that she does.
Her infectious enthusiasm is a credit to her.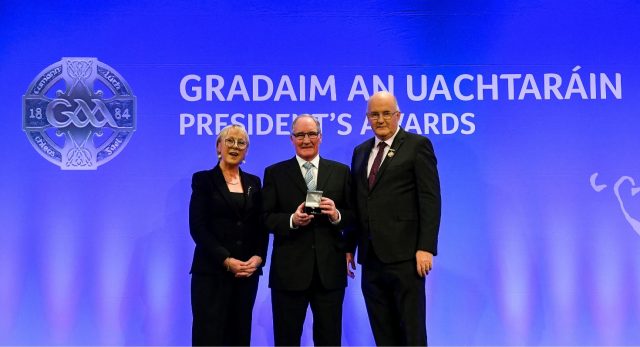 GRADAIM GAEILGE – CON Ó DÓNAILL, Bun an Phobail, Dun na nGall
Tá Con Ó Dónaill ag croílár na gcluichí Gaelacha i bParóiste Bhun an Phobail ó bhog sé óna cheantar dúchais féin, Dún Lúiche, sa bhliain 1968. Nuair a tháinig sé go Bun an Phobail ní raibh aon chlub ann ach thug sé féin, Brendan Keaveney, Paddy McGroarty agus níos deireanaí, Joe McGeady, fúthu sin a chur ina cheart. Faoin mbliain 1970 bhí foireann peile á cur chun páirce acu i mBun an Phobail.
Rinneadh iarracht i 1976 club a chur ar bun idir mhuintir Bhun an Phobail agus mhuintir Charn Domhnach, ach le Con tofa mar Rúnaí níor mhair an smaoineamh sin i bhfad agus cuireadh CLG Bhun an Phobail ar bun do mhuintir Bhun an Phobail – an chéad uair a raibh club dá gcuid féin ag an bpobal.
Bhí imeachtaí cultúrtha i gcónaí lárnach i bhfís Chon don chlub agus bhí siad ar a laghad chomh tábhachtach céanna leis na himeachtaí spóirt. Bhí Con taobh thiar den fhorbairt a tháinig ar Scór sa chlub agus chuir an club isteach ar chomórtais Scór don chéad uair i 1978 agus gan iad ach bliain amháin ar an bhfód.
Bhí Con ina Rúnaí ar an gclub idir 1976-2005, ina Chathaoirleach idir 2006-2011 agus tá sé ina Oifigeach Gaeilge orthu ó shin i leith.
Ag leibhéal Bhord an Chontae tá na blianta caite aige ag cur chun cinn imeachtaí cultúrtha agus chluichí an Chumainn. Bhí ról an Oifigigh Ghaeilge-Chultúrtha aige i 2006 agus arís eile idir 2012-2015. Le linn an ama sin, d'oibrigh sé go dian díograiseach agus é ag iarraidh an Ghaeilge, an ceol, an damhsa, an drámaíocht agus an amhránaíocht thraidisiúnta a chur chun cinn ar fud an chontae.
Ba é an t-aitheantas is fearr a tugadh ar fhís Chon don chlub ná nuair a d'éirigh leo Bonn Airgid a fháil i scéim Fhondúireacht Sheosaimh Mhic Dhonncha anuraidh. D'oibrigh Con go díograiseach chun an gradam seo a bhaint amach don chlub agus tá bunchloch leagtha síos aige don chéad ghlúin eile sa chlub i gcur chun cinn na Gaeilge.
Tá oidhreacht Chon le feiceáil sa chlub gach maidin Dé Sathairn agus os cionn 100 páiste ag traenáil, tríd an líon mór imreoirí ón gclub atá tar éis imirt leis an gcontae agus tríd na rudaí atá bainte amach ag an gclub ag Scór.
Tá an club buíoch de Eileen, Conor, Caitríona agus de Mharia as é a roinnt leo!