Positive contribution of young sports volunteers recognised at GoldMark Awards
Young sports volunteers took centre stage at the GoldMark Awards ceremony in Belfast this week.
The event, which was jointly organised by Ulster GAA, the Irish FA Foundation and Ulster Rugby, highlighted the huge volunteering effort across the three sports among young people aged 14-24.
The young people heard first-hand from three sports stars about their experiences of volunteering and the impact volunteers made on their sporting careers – David Jeffrey (Ballymena United manager), Connor McCann (Antrim GAA Hurling captain) and Alan O'Connor (current Ulster Rugby and Ireland player).
The packed audience at the Crowne Plaza Hotel also heard from Caelan McEvoy of Kilcoo GAA who gave a powerful overview of his experience volunteering in sport after his playing career was cruelly cut short due to a severe illness.
More than 100 young people were presented with a GoldMark Millennium Volunteers Award for 50, 100 and 200 hours of volunteering.
BBC Sport NI commentator Thomas Niblock compered the event.
Acknowledging the role of youth volunteering in sport, Ulster GAA vice-chairperson Ciaran McLaughlin said:
<em>"The GAA is built on the support of our volunteers. There is a role for everyone, whether it be as a player, administrator or coach. Our clubs rely on the dedication and commitment of many volunteers to achieve on and off the field.
"Our young people make a major contribution to their clubs through their volunteering efforts. The energy and enthusiasm they bring is infectious and our clubs are all the better for having young people playing a full part."</em>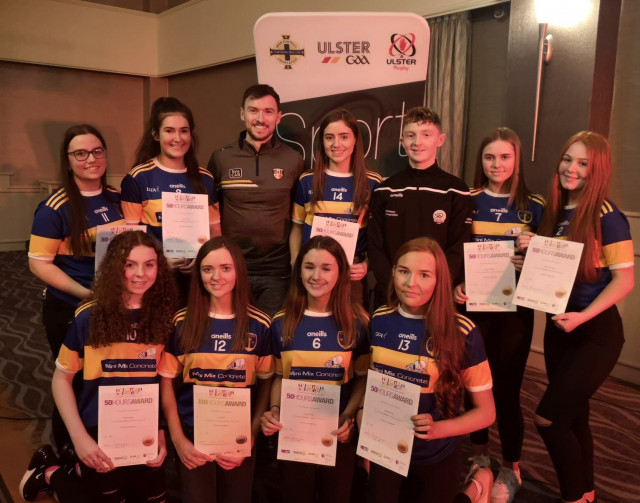 Congratulating the young volunteers, Ulster Rugby President Gary Leslie said:
"To see so many young volunteers taking the time and effort to make a difference in supporting their local clubs is what we as sport administrators are screaming out for.
"All three sports represented here are definitely on the right pathway to ensure that local clubs continue to be the lifeblood of the local community across the whole of the province.
"For years the club volunteer was an ever-aging phenomenon with the only one likely outcome if nothing changed.
"With so many young volunteers coming through the next opportunity is how we maintain the enthusiasm and provide the additional skills to make them the future leaders of their clubs."
Irish FA vice-president Crawford Wilson pointed out:
"Through Department for Communities funding the Irish FA Foundation, Ulster Rugby and Ulster GAA are able to work together to increase participation in volunteering – promoting and recognising our volunteers and also developing their skills and knowledge."
"We also appreciate the ongoing support of Volunteer Now, supported by the Education Authority, in this work. Through this programme the spotlight shines on the positive contribution of young people to clubs and their wider communities."
Jamie Greer of Volunteer Now added:
"Sport provides some of the best quality volunteering opportunities for young people allowing them to give back within their own communities, develop essential skills and have a positive experience all at the same time. Volunteers inspire each new generation to get involved and keep that sport alive. It's fantastic to see the recognition growing over the years and we commend the support provided by each of the governing bodies."