Seachtain na Gaeilge 2020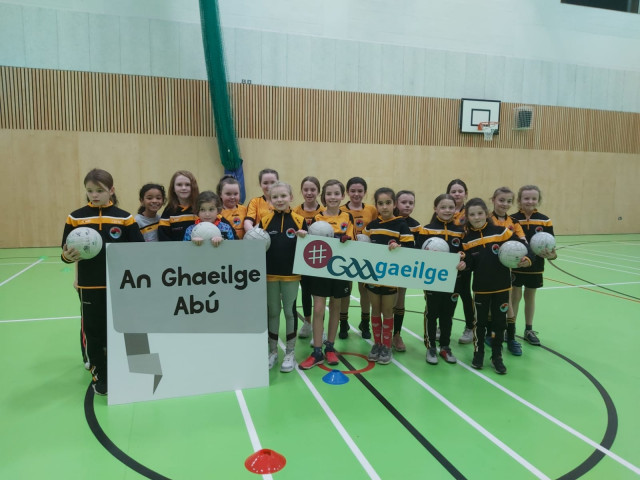 Chun Seachtain na Gaeilge a cheiliúradh i mbliana, dhírigh CLG Uladh isteach ar chlubanna Uladh, agus ar an obair mhaith, agus na himeachtaí, a bhíonn ar bun acu chun an Ghaeilge a chur chun cinn fud fad an Chúige. Is bunchloch an CLG é an club, mar is eol dúinn ar fad, agus is iad atá ag croílár na forbartha maidir le cúrsaí Gaeilge sa Chumann Lúthchleas Gael.
Chonaic muid go mbíonn ranganna ceoil agus teanga ar bun sna clubanna, agus go mbíonn an Ghaeilge in úsáid ag achan aoisghrúpa sna clubanna sin fosta. Bhí muid istigh i mbunscoileanna áitiúla, ag éisteacht le ceol ó na páistí óga trí mheán na Gaeilge, ba dheas an Ghaeilge a chloisteáil mar mhodh cumarsáide ag oícheanta traenála, agus bhí imeachtaí iontacha le feiceáil tríd an haischlib #GAAGaeilge agus #SnaG2020 ar na meáin shóisialta.
Is soiléir go bhfuil tábhacht nach beag le Fondúireacht Sheosaimh Mhic Dhonncha, mar threoir do chlubanna a chuidíonn leo an Ghaeilge a chur chun cinn ina gclubanna féin, agus mar phobal sna ceantair máguaird, agus iad ag obair le chéile ag labhairt na Gaeilge. Tá os cionn 150 club cláraithe leis an scéim go dtí seo i mbliana. Is scéim í seo do chlubanna an CLG atá á riar ag Glór na nGael i gcomhar leis an CLG. Tugann an scéim seo aitheantas do chlubanna a dhéanann obair iontach ar son na teanga. Ní amháin sin, ach cuirtear cistí miondeontas ar fáil do na clubanna atá cláraithe chun cuidiú leo. Mholfainn do gach club léamh faoin Fhondúireacht anseo.
Ba chóir dúinn ar fad cloígh leis an spiorad seo go fiú agus Seachtain na Gaeilge thart, mar a deir Jamie Ó Tuama, Oifigeach Forbartha Gaeilge Chumann Lúthchleas Gael, san alt seo. 'Bíodh gach seachtain ina 'Seachtain na Gaeilge!' Tá alt iontach scríofa ag Jamie ina bpléann sé obair an CLG ar son na Gaeilge, agus na himeachtaí ar fad atá ar bun ag an CLG le linn na Seachtaine seo, agus ó thus go deireadh na bliana.
Ár mbuíochas leis na clubanna a ghlac páirt. Déan teagmháil le hOifigeach Gaeilge an Chúige, Tricia ar tricia.nichearra.ulster@gaa.ie, más spéis leat labhairt faoi chúrsaí Gaeilge i do chlub! Any clubs who are working hard to promote Gaeilge are invited to contact CLG Uladh to share their efforts, so that we may continue to shine a well-deserved spotlight on them. Beatha teanga, í a labhairt!