Coach Development Programe – Club Championship Webinar Series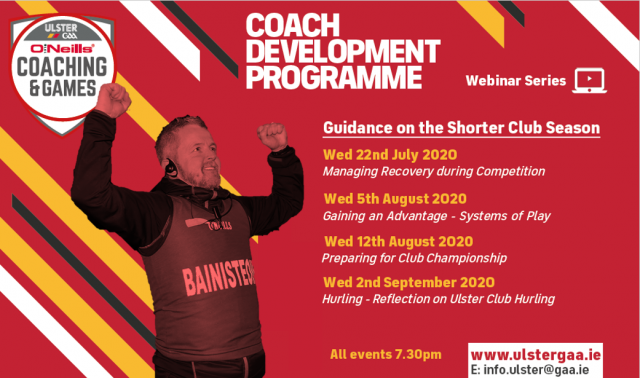 Ulster GAA will host a Webinar series across the next number of weeks as part of our Coach Development Programme (CDP) 2020.
This CDP series is designed to help club coaches during the reduced 10-12 weeks of club activity this season. With this upcoming period of intense league and championship activity, club coaches will be faced with regular games and the consequent requirement for rest and recovery stategies.
The webinar sessions will include:
1. Injury Management and Recovery Strategies – Wed 22nd July 2020
Mattie Brady will deliver a Webinar focused on a comonsense approach to training load as well as strategies to reduce injuries.
2. Gaining and Edge – Systems of Play – Wed 5th August 2020
Roger Keenan and Tony Scullion will look at various tactical plays and set ups to maximise retention from restarts, reducing scores conceded and maximise scores from attacks.
3. Preparing for Club Championship – Wed 12th August 2020
Tony McEntee will look at tips and techniques to help players switch from a league to a championship mindset
4. A reflection on how Ulster Club Hurling can contribute to strenghtening the game at county level – Wed 2nd Sept
Oisin McManus will look at club coaching activities for child, youth and adult. The session will also reflect on strategies to develop hurling in our clubs across Ulster.
Each of the events will take place at 7.30pm and will require pre-registration via Eventbrite. The eventbrite links will be promoted via Ulster GAA Twitter and Facebook channels.