Club Championship webinar series available to view online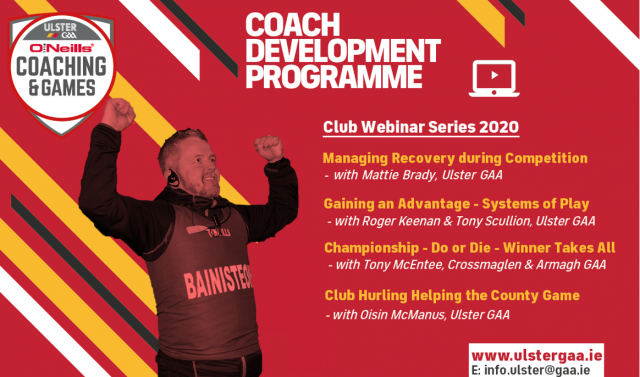 Ulster GAA recently hosted a series of webinars as part of our Coach Development Programme 2020 to assist club coaches across the Province during a period of intense League and Championship activity.
This CPD series was designed to help coaches who face a busy schedule of regular games and the consequent requirement for rest and recovery stategies, during the reduced 10-12 weeks of club activity this season.
If you missed the online programmes, all three webinars are available to watch now on the Ulster GAA YouTube channel –
Webinar 1
Managing Recovery During Competition delivered by Mattie Brady, can be viewed here.
Webinar 2
Gaining an Advantage – Systems of Play delivered by Roger Keenan & Tony Scullion, can be viewed here.
Webinar 3
Club Championship, Do or Die, Winner Takes All delivered by Tony McEntee, can be viewed here.
The series will continue in the coming weeks with A reflection on how Ulster Club Hurling can contribute to strenghtening the game at county level so watch this space for more details!