Eoghan Bán Gallagher: "Every player has in their head that it's Championship time, and everyone has to be ready to go"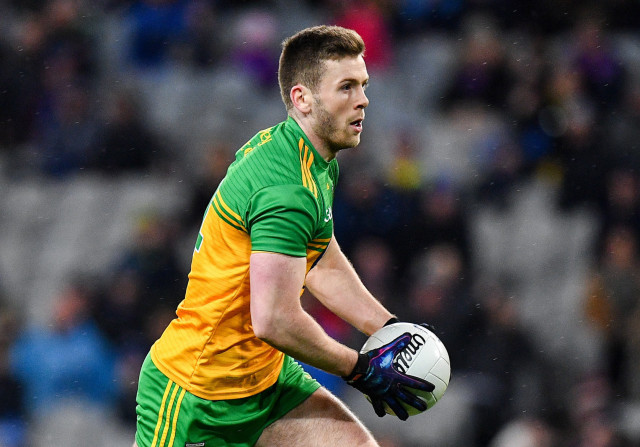 Donegal defender Eoghan Bán Gallagher believes lockdown has helped him to improve as a player both physically and mentally.
When all GAA activities were suspended due to Covid-19 back in March, Gallagher used the time to tighten up some areas of his game, and he says the lack of games inadvertently allowed him to focus on where he felt he needed to improve.
Gallagher suffered a serious ankle injury in a training session after last year's Ulster SFC Final which ruled out of the All Ireland series. Having recovered from that and getting through the most-part of the league at the beginning of this year, he felt there was more work to do.
"Whenever games are played back-to-back, and you're continually going through training and trying to get ready for the next game, it's hard sometimes to work on things," said the Killybegs clubman.
"During the period when we had no games, it gave me the chance to focus on a few individual things that I wouldn't have been happy with. I feel I'm in better shape now."
Over the lay-off Gallagher also took to reading, something he admits he is not usually prone to doing. He focused on gaining insight from learning about the how the best professional sports teams achieve excellence.
"I had a bit of extra time so I decided to get into a few books. A lot of the best teams talk about collective responsibility. If you look at Liverpool, and the New Zealand and Leinster rugby teams, they all talk about collective responsibility.
"It's everyone's job on the team. You can't just keep looking at Michael Murphy, Neil McGee, Ryan McHugh and Paddy McBrearty to continue to lead us. It's up to everyone within the squad to drive it.
"It's something all the best teams do and it's up to us to strive towards and share the responsibility on the pitch, instead of just having it focus on one or two players."
And this Sunday there will be particular responsibility in Gallagher department of defence in curtailing the threat of Tyrone's newest attacking threats, Conor McKenna and Darragh Canavan.
"They're two huge assets for Tyrone. Any time you can bring in two players that can have such an impact in such a short period of time, they're two biggest assets for Tyrone. It will add another dimension to their attack but we're looking forward to the challenge."
Gallagher has some previous with McKenna. Both were in the same age-group at minor level and they played against each other in the 2014 Ulster Minor League Final, a Donegal team managed by current senior boss Declan Bonner.
The direct running of McKenna, along with his power and athleticism honed from five seasons in the AFL, will be a big challenge for any opposing defender, but Gallagher believes he is well used to that type of task thanks to years of taking on the likes of Michael Murphy in Donegal training.
"Whenever they get the ball, they're mad to take you on. There's plenty of direct players. We're lucky enough in Donegal that we have a number of very direct players ourselves, with Ryan [McHugh], Jamie Brennan, Michael [Murphy], they'd be all fairly direct and we'd get good practice against them in training.
"It's the best way to get used to defending against players that are very direct. Conor's been excellent since he came back, he's taken to it very quickly and I think he's surprised a lot of people."
It's been an unusual build-up to what will be an unusual Ulster Championship quarter-final – the November elements, the empty Páirc Sean MacCumhaill. But this is Donegal versus Tyrone in the Championship, and for Gallagher, the basics still apply.
"Obviously it's different but yeah, definitely. It's a few months further down the line but anything can happen on Sunday and hopefully when the final whistle goes, we'll be the team on top."