Ulster GAA welcomes historic Casement Park planning announcement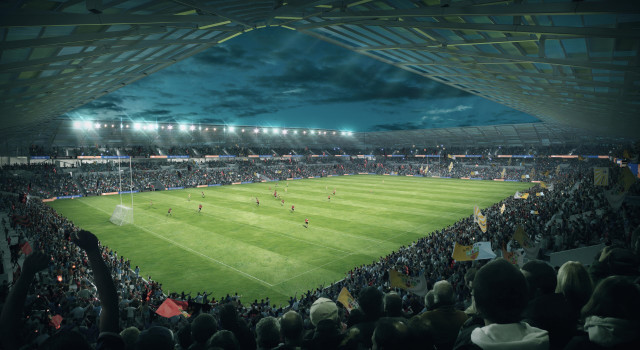 Ulster GAA has today welcomed the 'landmark and historic decision' from Infrastructure Minister Nichola Mallon to recommend planning approval for the redevelopment of Casement Park stadium in Belfast.
Tom Daly, Chairperson of the Casement Park Stadium Development Project Board, said:
"Today's announcement represents a very significant milestone for Gaels across Ireland, Ulster and Antrim who have remained fully committed to the delivery of their provincial stadium at Casement Park. We want to recognise and thank them for their unstinting support throughout the application process.
"We firmly welcome the Minister's support and recognition of this decision as a significant step and one which will provide a major economic boost to Belfast. The Casement Park project will support the economic recovery, representing a long-term investment in the future of west Belfast, bringing with it many direct and indirect jobs along with increased revenues for local businesses and the regeneration of the area."
Following the submission of a planning application in February 2017, today's decision will act as a major catalyst for the GAA and wider community and will see the completion of the last remaining project within the NI Executive's Regional Sports Stadia Programme.
More than 5,000 people engaged in the project's unprecedented 32 week community consultation with 95% stating that they were in favour of the new design.
The community consultation informed the design process which was led by global award-winning architects Populous, designers of Tottenham Hotspur, Emirates and Aviva stadiums. The new Casement Park will deliver a state-of-the-art design and include an iconic bowl structure with a 34,578 capacity and a range of mixed-use facilities that will bring cultural, health, civic and economic opportunities to Belfast and beyond.
Commenting on the announcement, Brian McAvoy, Chief Executive of Ulster GAA said:
"Today's decision provides a clear pathway for the redevelopment of Casement Park and will be a major boost to the GAA and wider society.
"More than a decade ago, the GAA made a commitment to the Gaels in Antrim, Ulster and throughout Ireland to ensure that Belfast would have a world class stadium to serve their needs. The recommendation of planning approval is a momentous step in this process, and we would like to thank our members and the wider GAA community for their patience and continued support throughout this journey.
"We would also like to thank the Casement Park Project Board and Design Team as we would not be here today without their tireless work and commitment to the process.
"Throughout the pandemic the GAA as a proud community organisation with more than 250,000 members in Ulster has led from the front in the fight against Coronavirus and this spirit matches the ambitions of the new provincial stadium.
"The re-developed Casement Park will bring positive local community benefits and we will work hard to be a good neighbour for all those who live in the locality."
Ciaran McCavana, Antrim GAA Chairperson, added;
"The Gaels of Antrim can now look forward to having a world-class facility that they can call home, which will also inspire future generations to grow and develop our games. It will not only serve the GAA members, but it will act as hub for community and cultural activities that will serve the wider community, creating a transformational social and cultural focal point in Belfast.  We also look forward to the long-term contribution that Casement Park will make to the regional sporting infrastructure of Belfast and Ulster over the coming decades."