2020 Ulster SFC Final: A Statistical Analysis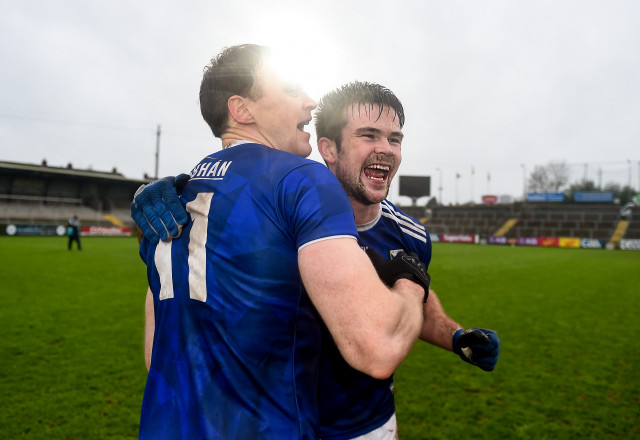 Ahead of Sunday's Ulster Final, Ulster GAA Sports Science Officer Eoin McNicholl analysed both of last weekend's semi-finals to see what the statistics reveal about both Donegal and Cavan in this year's Championship thus far.
Armagh 0-13 Donegal 1-22 
A more efficient Donegal blew away Armagh in a comprehensive victory over the 70 minutes as we look at the key statistics and where the game was won and lost.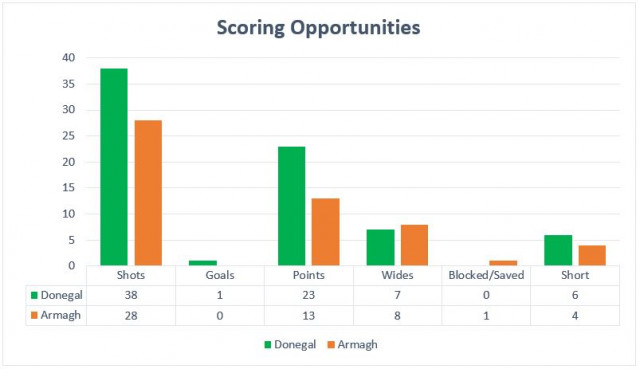 To be able to win any game you need to create more scoring opportunities to give your team the best chance. In the Semi-Final game Donegal were able to do this (38 shots), however in their first game against Tyrone they had six shots less than their opponents, and only a better conversion rate (56% v Tyrone's 38%) saw them through to the next round.
In fact, their productivity in the game vs Armagh was the best in the competition to date, with a conversion rate of 63%. This is impressive considering only three of these 24 scores vs Armagh came from frees whilst battling the wet and windy weather conditions in Kingspan Breffni.
This indicates Donegal are more than capable of taking their scores from play, and with 13 different scorers in the Semi-Final, they will give Cavan plenty of food for thought on how to curtail the scoring threat from all over the field. They may want to keep tabs on the tenacious Donegal half-back line who contributed 1-5 from play (Peadar Mogan 1-2, Ryan McHugh 0-2, Oisin Gallen 0-1).
Shaun Patton has demonstrated over the past number of seasons why he is one of best goalkeepers in the country. A 76% kick-out retention vs Armagh and a 70% retention rate vs Tyrone, combined with the work rate of his team mates to create space for retaining possession, is the catalyst to set up the Donegal attacks.
In the Semi-Final game, Donegal outworked their opponents and turned them over 20 times to Armagh's 15. However, in the Quarter-Final, Tyrone won the turnover count 22 to 15, so if Cavan want to have any hope of causing an upset they will need to focus on these two areas of retaining possession.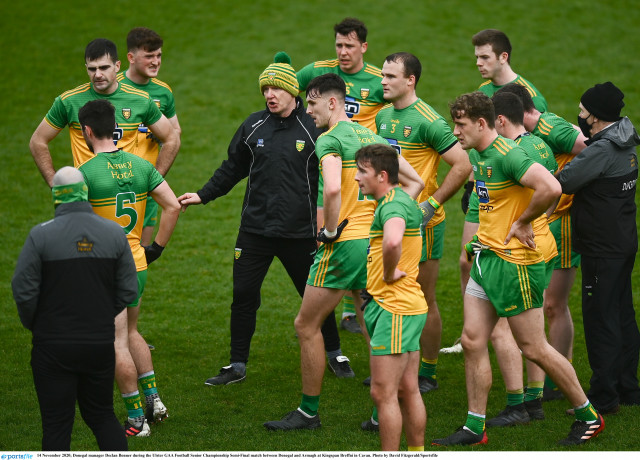 Cavan 1-14 Down 1-13
In a game where weather conditions were not ideal for Championship football, Cavan seemed to be all but finished going in at half time eight points down (which was 10 points at one time). However, as we have seen time and time again, Cavan produced the goods in the second half to run out one-point victors. We delve into the numbers and how this turnaround came about.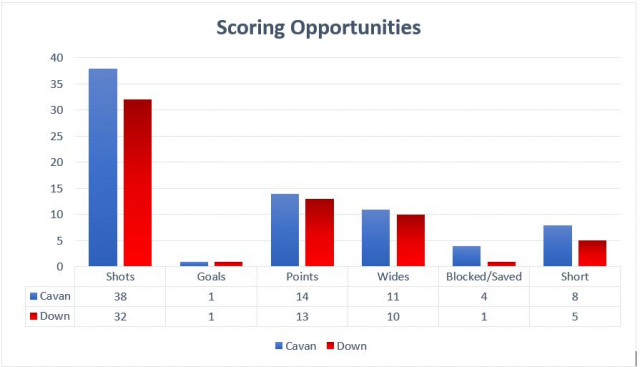 Yet again the team that creates the most scoring opportunities tends to win the game, and in this instance, by the skin of their teeth! Cavan created the same shot count as Donegal in the other semi-final, however they will look to make improvements on their wide and short count as they could only return an overall 39% shot conversion rate.
The adverse weather conditions definitely played its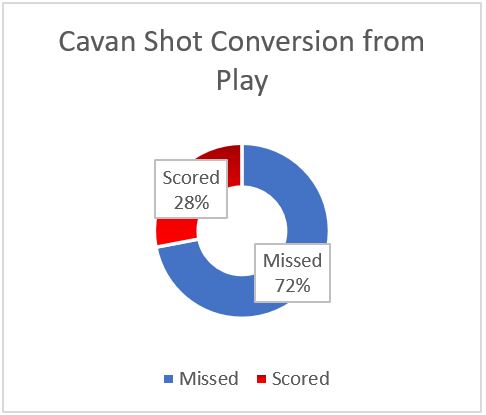 part on that shot conversation rate and Cavan were lucky they didn't find themselves further behind when Down should have converted another goal at the beginning of the second half.
However, they will look to the inspiration of their bench, in particular Conor Madden who was introduced at half-time and contributed 0-3.
Cavan have produced second half performances to see off Monaghan (AET), Antrim and Down. Goalkeeper Raymond Galligan has been instrumental in the retention of possession from kick-outs throughout the Ulster Championship (78% v Monaghan, 85% v Antrim and 86% v Down}. One of the key assets of Galligan's kick-outs is that he can kick the dead ball accurately with both feet, which has been keeping the opposition forwards guessing.
However, Cavan boss Mickey Graham will look to the turnover rate as an area for improvement having been turned over 17 times in the tackle/giving up possession in open play against Down. One of Cavan's main strengths have been when they are able to turnover other teams on their own kick-outs, especially against any wind, as they have shown by claiming no less than 10 out of 14 Down kick-outs in the second half.
If they can do that, they are in with a fighting chance on winning their first Anglo-Celt trophy since 1997.