Codes combine for Volunteer Development Programme workshop
Earlier in the year, Ulster GAA, Ulster Rugby and IFA Community Sports Development Officers held a 'Sport Uniting Communities' Volunteer Development Programme workshop at CKS Centre Omagh, with 18 volunteers from 10 local soccer, rugby and GAA clubs in attendance.
The event consisted of the delivery of five workshops looking at Volunteer Development.
Defining Roles and Responsibilities within Clubs
Volunteer Recruitment and Retention
Succession Planning for Volunteers
Becoming an Inclusive Club
Volunteer Leadership/Mentoring.
During the event the participants got to learn more about the 'Sport Uniting Communities Project', engaged in discussions and group work with all codes sharing ideas and solutions faced around the topic of volunteering and also action planning to plan events where clubs can work together to build relationships and be more inclusive.
Feedback from clubs was very positive and clubs were keen to work together to run events in the local community to bring people from different backgrounds together.
Secretary 0f Naomh Eoghan GAC in Tyrone said: "We thought the event was really good and as a club have taken a lot away from it. We enjoyed the workshops and they have given us a bit of food for thought, which is great".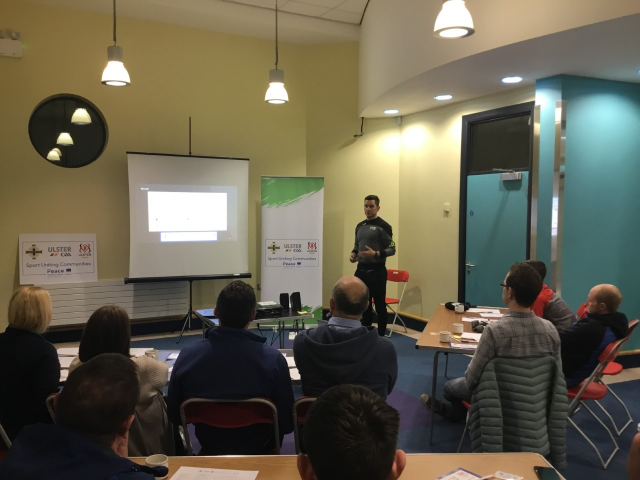 Some of the benefits for GAA clubs ongoing and commitment to the volunteer development programme are:
Cross community Fun Day event with coaches from Ulster GAA, Rugby and IFA and possibility of use of our inflatables.
2 club representatives to attend 3 stadiums tours (Windsor Park, Kingspan Stadium and Croke Park)
Volunteer Training Day
Sports coaching equipment pack
Free places for new coaches on a GAA foundation football coaching award course
Gold Mark volunteer recognition certificates and awards ceremony for young club volunteers
Ideas on how to become a more open and welcoming club.
Help to achieve high standards in Club Maith Portfolios.
Ongoing club support
Volunteer handbooks
Builds good community links with schools and other sports clubs in your area
Help with recruiting new players and volunteers