Education Minister praises Ulster GAA and IFA Sports Programme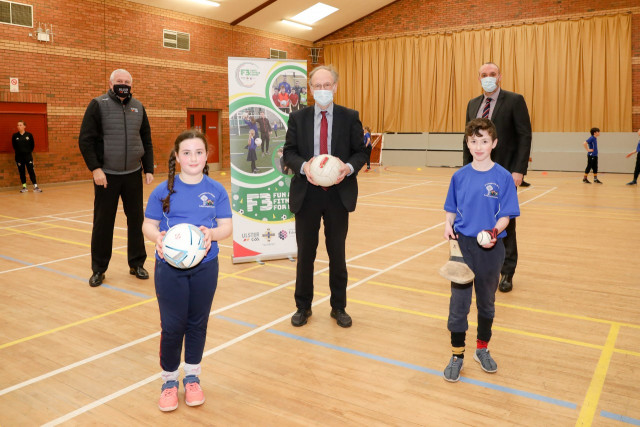 Ulster GAA, in partnership with Irish Football Association (IFA), this week were delivering a a school sports programme aimed at encouraging a love of sport and increasing emotional resilience for young pupils.
The programme, focusing on pupils aged 7 to 11, promotes the benefits of participating in sport and physical activity and encourages pupils to develop a lifelong interest in maintaining an active and healthy lifestyle. It also helps students increase their emotional resilience and has a particular focus on boosting sporting participation among girls.
Education Minister Peter Weir was visiting St Comgall's Primary School in Bangor to see at first hand pupils taking part in the sports initiative. The Minister commented:
"Children's wellbeing is fundamentally important and central to all I do. The link between physical health and the wellbeing of young people is well-known. It is pleasing to see at first hand how this initiative helps pupils learn about mental health and wellbeing, including resilience and self-esteem.
"I recognise the contribution sport makes, not only in terms of its physical benefits, but also in raising the confidence of young people. That is why my Department has invested significantly in sports coaching provided by Ulster GAA and the IFA to support PE in primary schools."
During the visit, coaches also showcased how physical activity could be delivered in the current climate.
The Minister concluded: "This programme helps to strengthen and deepen the delivery of the PE curriculum and introduces children to new sports and skills as they approach the transition to post-primary school."