FEATURE: Captain Galligan keeping Cavan on course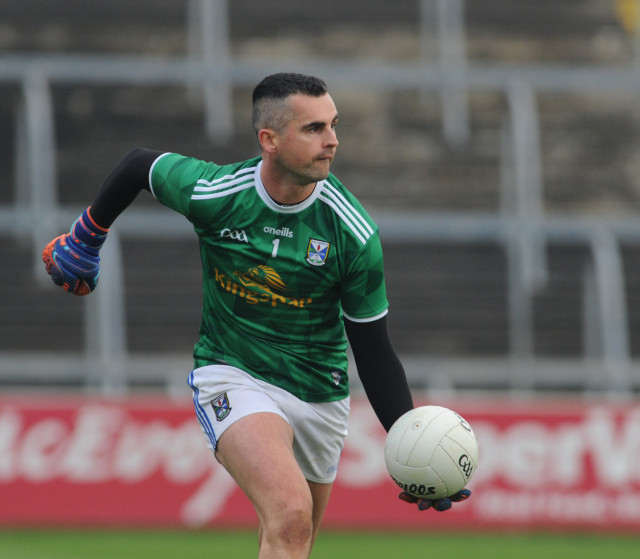 Thirty-five minutes into Cavan's 2020 Ulster odyssey it looked as though their league woe would carry into the Championship, and that a long, hard winter lay ahead.
A second successive relegation had been suffered the week before, and by the halfway stage of their Championship opener at St Tiernach's Park, they were trailing to neighbouring rivals Monaghan by seven points.
But then came a resilient fightback that has come to define Cavan in the past three weeks. While they'd allowed Monaghan to outscore them nine points to one before the break, Mickey Graham's men rattled off six unanswered scores of their own after the restart, and as the game creeped towards the end of extra-time, they held a winning grip.
Rory Beggan looked to bring the game to penalties with a massive free in the very last stages, but the final moment of drama was reserved for Cavan's keeper and team captain Raymond Galligan.
"It all happened very fast," says the Lacken club man of the moment he left his station in the Cavan goal mouth to launch over an enormous 55-metre free, the final action of over 100 minutes of football all-in that won a most incredible game.
"When you get the nod to come up, it's just a matter of sticking to your routine and believing you can do it. It went over, but on another day it could have went horribly wrong. It was a nice feeling when it went over."
In another year, the moment would have sent a few thousand Cavan fans delirious inside Clones. Their roars and cheers and whoops would have rolled all around the ground and back into the town, but there were no supporters to be heard in this the most irregular of GAA seasons.
Instead the initial adulation of the minutes after the final whistle slowly returned to the mundanity of life in recent times as the players got back into their cars and drove their own way home.
A surreal, subdued denouement, and while Galligan's heroics were the talk of the country for sure as the winter football Championship served up its first big moment, the whistle-stop nature of this season's competition meant that there was no time, or no opportunity even, to get too carried away.
"Lots of friends and family were delighted for me, it was a nice occasion," says Galligan. "But once we got back into training on Tuesday night, I wasn't long being brought back down to earth, to realise that you're only as good as your last game.
"Having the games thick and fast, you have to park it and move. Definitely it was a nice feeling, it's something I can look back on in time to come."
The four weeks from that halftime in Clones to today's Ulster Final has been packed with enough excitement and drama to fill a few seasons for the Breffni County.
They navigated their way past a hearty Antrim challenge in the quarterfinal to set up a tie with Down that would decide who would compete with Donegal for the Anglo-Celt. It would prove to be another roller-coaster of a game.
Like against Monaghan and Antrim, Cavan's first half was not up to scratch, and the Mournemen raced out of the blocks. Cavan again found themselves in a similar scenario to that day in Clones, well behind and in need of a serious recalibration.
"We felt at halftime, even though it was an eight-point deficit, we were just going to split it into two halves and just try over the next 17 minutes to get ourselves back into the game, get it down to a four- or five-point game.
"It wasn't a case of going out in the third quarter and trying to narrow the gap completely. We just knew to take it quarter by quarter and we were fortunate we had it narrowed down to that three-point lead in the fourth quarter. We had the momentum and thankfully it worked out."
The manner in which Cavan turned it around was as admirable as it was thrilling. It was a methodical approach to identifying where Down were hurting them, the direct running through the middle and contesting ball in midfield with more desire. Imposing themselves on Down and intensifying the pressure on their kickouts was another thing on the to-do list for the second half.
"The players got five or six minutes to themselves, there was a bit of reshuffling to be done with subs," says Galligan. "It was similar to Monaghan in that we were all very calm. We just addressed the areas we needed to improve on, we needed to stop the runners coming from deep and to squeeze the kick outs.
"Before Mickey came in, we had that resolved in our heads that that's what we were going to do. Mickey reinforced those points, that we needed to bring a bit more life to it, especially around the middle sector, to bring a bit of aggression and get in round the breaks, something we weren't doing in the first half. He got us fired up, and I suppose the players backed it up in the second half."
This will be Cavan's sixth game in as many weeks. No team in the country has been put through the ringer as much in the past month and a half, yet while you'd expect the constant toil of games, especially with several of them as testing as Cavan's had been, that the physical and mental demand to eventually catch up with them.
It hasn't been the case. Cavan have arguably been finishing games much stronger than how they've started them. They've been going right to the very end and finding new reserves of hunger and desire to bring themselves back from the brink. It's something Galligan says is significantly aided by the simple remedy of winning.
"It makes it a lot easier to get into the car to go to training. Thankfully, the lads are in super condition, testament to our strength and conditioning over the last number of months. We're finishing strongly, so there's definitely no ill-effects from the consistent games week-on-week so far.
"Having these games back-to-back, it doesn't give you the opportunity to dream big or look too far ahead of yourself. From Monaghan into Antrim then Down, it's really only now that you start to look forward to the final. It's a lot different to last year, we had that window to really embrace the Ulster final.
"Now it's coming thick and fast, and it's really just a matter of getting ourselves sorted right away. Can we put in a complete performance for 70 minutes? We're aware that 35 minutes of a lapse against Donegal and you're not cutting any deficit. We really have to bring our A-game from the start."