REPORT: Armagh hold firm to see off Derry fightback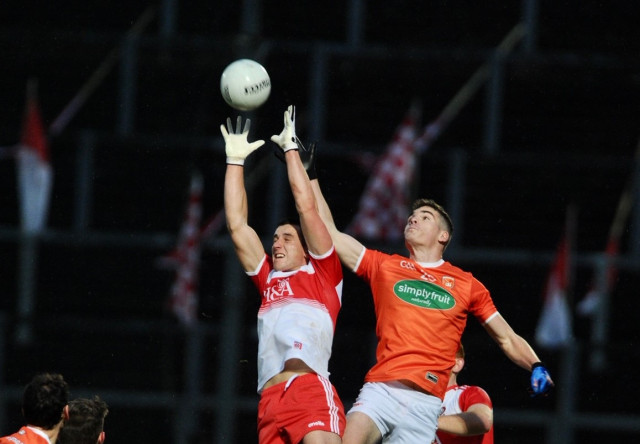 ULSTER SENIOR FOOTBALL CHAMPIONSHIP QUARTER FINAL
DERRY 0-15 ARMAGH 0-17
At Celtic Park
A second half push from Derry wasn't enough as Armagh saw out a two-point win in this afternoon's Ulster SFC Quarter Final at Celtic Park.
Kieran McGeeney's side had build up a six-point lead by half time, but were made to work hard to stay in front following a gallant charge from the Oakleafers in the second period.
Played in teeming rain throughout, Armagh were the more clinical of the two sides in the early stages, and O'Neill Brothers Rian and Oisin, Rory Grugan, Jarlath Og Burns and Jamie Clarke all chipped in to establish a 0-9 to 0-3 lead by the 25th minute.
For Derry, Niall Loughlin claimed a couple of scores after Chrissy McKaigue had opened their account, but Rory Gallagher's men were found scoring chances harder to come by.
After the break though Derry upped their game, and the accuracy of Shane McGuigan and Loughlin came to the fore as they cut the gap to just two points by the 51st minute. Armagh also lost the services of Jamie Clarke for ten minutes to a black card sin bin.
Armagh were now coming under pressure as Derry's confidence grew, but Rian O'Neill ensured the visitors stayed out in front with some fine place kicking, while captain Aidan Forker and Mark Shields also landed important scores.
Slaughtneil man McGuigan again tagged on frees to keep Derry in the fight right to the end, but a huge kick from O'Neill off the ground in the final moments cemented the win for Armagh.
They now go on to play Donegal in the semi-final in a fortnight.
Scorers for Derry: Shane McGuigan 0-7 (7fs), Niall Loughlin 0-4 (3fs), Ethan Doherty 0-1, Ciaran McFaul 0-1, Patrick Kearney 0-1, Chrissy McKaigue 0-1
Scorers for Armagh: Rian O'Neill 0-4 (4fs), Rory Grugan 0-3 (1f), Jamie Clarke 0-3, Aidan Forker 0-2, Oisin O'Neill 0-2, Conor O'Neill 0-1, Mark Shields 0-1, Jarlath Og Burns 0-1.
DERRY: Odhran Lynch, Paul McNeill, Brendan Rogers, Carlus McWilliams, Ethan Doherty, Chrissy McKaigue, Padraig McGrogan, Ciaran McFaul, Conor Glass, Danny Tallon, Enda Lynn, Padraig Cassidy, Emmett Bradley, Shane McGuigan, Niall Loughlin. Subs: Patrick Kearney for D Tallon (46), Oisin McWilliams for P McNeill (60), Paul Cassidy for E Lynn (64), Alex Doherty for P Cassidy (69)
ARMAGH: Blaine Hughes, Paddy Burns, Ryan Kennedy, James Morgan, Conor O'Neill, Aidan Forker, Mark Shiels, Oisin O'Neill, Stephen Sheridan, Rory Grugan, Greg McCabe, Stefan Campbell, Jamie Clarke, Rian O'Neill, Jarlath Og Burns . Subs: Niall Grimley for G McCabe (52), Callum McCumiskey for S Sheridan (63)
Referee: Sean Hurson (Tyrone)