Coláiste na Carraige: Mol an óige, agus tiocfaidh sí.
Tá Gleann Cholm Cille cuachta idir cnoic iardheisceart Dhún na nGall. Is paróiste iontach láidir é Gleann Cholm Cille ó tharla go bhfuil fréamhacha ársa ag an chultúr Gaelach sa cheantar. Cuireann Coláiste na Carraige fearadh na fáile roimh chách, agus tá sé mar aidhm acu ardchaighdeán oideachais a chur ar fáil bunaithe ar mheas, ar chomhoibriú, ar obair chrua agus ar chineáltas. Tá suíomh ar leith ag Coláiste na Carraige: tá Sliabh Liag le haimsiú i dTeileann an Éisc, mar a tugadh ar an áit uair den tsaol, 'ag caismirt le fiantas na Farraige Móire', mar a scríobh Seosamh Mac Grianna fá chosta Thír Chonaill. Tá Coláiste na Carraige ag croílár an phobail sa cheantar speisialta seo le breis agus 70 bliain.
Nestled in a remote corner of west Donegal, Coláiste na Carraige welcomes all members of the community and strives to provide an excellent education service based on the principles of respect, partnership, hard work and kindness. With the imperious Sliabh League cliffs a stones throw away and the Wild Atlantic Way meandering its way along the nearby coastline, Coláiste na Carraige has been a bedrock of the local community for over 70 years.
Ní call a rá go bhfuil ról lárnach ag na cluichí Gaelacha i gColáiste na Carraige, agus cé nach bhfuil líon na ndaltaí ró-ard, bíonn an-rath orthu i gcluichí na scoileanna agus i gcomórtais eile.
It goes without saying that Gaelic games play a significant part of everyday school life at Coláiste na Carraige, yet despite the school having one of the smallest enrolments in the province, they have consistently punched well above their weight in schools' competitions and beyond.
Níl ach dhá chlub sa cheantar máguaird: Cill Charthaigh agus Naomh Columba, agus is cinnte gur chruthaigh na naisc sin idir scoil agus club roinnt de na himreoirí is fearr dá bhfaca muintir Uladh le blianta beaga anuas. Is fíor go mbíonn an scoil ag brath go mór ar na clubanna seo ag baint úsáide as áiseanna na scoile le linn na bliana. Tá deá-scéal ann anois go mbeidh láthair thraenála uile-aimsire réidh gan mhoill, agus is cinnte go mbeidh sé seo ina rud iontach don phobal iomlán.
Coláiste na Carraige has only two feeder clubs, Kilcar and Naomh Columba, yet those links have helped to create some of the finest footballers the county and province have seen over the last number of years. The school relies heavily on these two clubs for the use of facilities throughout the school year, but with a new all-weather training facility due to be finished in the coming months, this should prove an enormous benefit to the whole community.
Tá tradisiún láidir ag an scoil maidir le cúrsaí peile, le níos mó ná 40 teideal bainte acu le caoga bliain anuas. Ní nach ionadh go bhfuil clú ar roinnt d'iar-dhaltaí na scoile: na déarthaireacha James agus Martin McHugh, John Joe Doherty agus Noel Hegarty, agus iad ar fad i measc Sárimreoirí na Bliana in 1992.  Seacht mbliana roimhe sin, bhí John Joe agus Noel ar fhoireann na scoile a bhuaigh Corn Uí Mharcaigh den chéad uair in 1985. Nuair a rug siad an craobh leo, ba iad an chéad scoil sa chontae chun an comórtas sin a bhaint.
The school boasts a fine tradition in schools football, with over 40 county titles across the previous five decades. Some of the first past pupils to make a name for themselves were brothers James and Martin McHugh, John Joe Doherty and Noel Hegarty, all of whom were All-Ireland winners with Donegal in 1992. The McHugh brothers would both pick up All-Star awards that year, with Doherty collecting his a year later. However, seven years earlier John Joe and Noel were part of the Coláiste na Carraige team that won the Ulster Vocational Schools' Markey Cup for the first time in 1985. In doing so, Carrick became the first Donegal school to win the competition.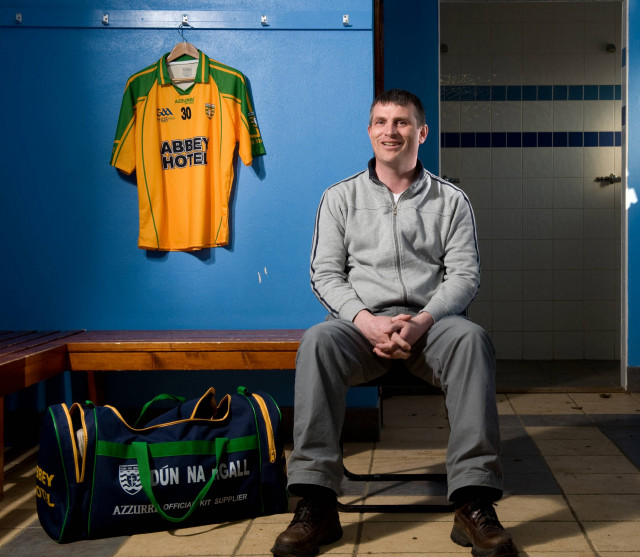 D'fhéadfaí a mhaíomh gurb é an tréimhse seo i stair an Choláiste foinse an ratha a bhí taobh thiar den bhua a bhí acu i gCraobhchomórtas Sinsir na hÉireann sa Pheil in 1990. An bhliain roimhe sin, bhuaigh Cill Charthaigh Corn Mhig Uidhir, agus is cinnte go raibh na naisc sin idir foireann Chill Charthaigh agus foireann Uí Mharcaigh iontach go deo soiléir.
 Naomh Columba can probably point to that golden period of success for Coláiste na Carraige as being a driving force behind their Senior Football Championship success in 1990. A year earlier it was Kilcar who collected the Dr Maguire Cup with the links to that successful Markey Cup winning squad evident within both clubs.
Kilcar won the title again in 1993 and in 2017 they bridged a 24 year gap to once again reign as county champions. It comes as no coincidence that success coincides with Coláiste na Carraige collecting back-to-back Markey Cups in 2014 and 2015, as well as an Arthurs Cup (U16) title in 2016 and final appearances in 2010, 2013 and 2015.
Tá glúin eile d'imreoirí anois le feiceáil: déarthaireachta Mark agus Ryan McHugh a lean ar lorg a n-athair, Martin, nuair a d'imir siad i gcluiche Ceannais na hÉireann in 2012 agus 2014, agus fuair Mark cros Cheilteach ar an lá mór sin in éineacht le Patrick McBrearty. Tá a  gcol ceathair, Eoin, mar bhunchloch na foirne le blianta beaga anuas chomh maith. In 2018, fuair Aaron Doherty an chéad 'Sárimreoir na Bliana' ó Scoileanna Uladh de chuid na scoile sin.
A new generation of players have stepped up to match the achievements of their predecessors. Brothers Mark and Ryan McHugh have followed in the footsteps of their father Martin with All-Ireland Final appearances in 2012 and 2014 respectively, with Mark collecting a Celtic Cross alongside Patrick McBrearty. Their cousin Eoin and has been a mainstay of the Donegal side over a number of years now. In 2018, Aaron Doherty received the schools first Ulster Schools All-Star award.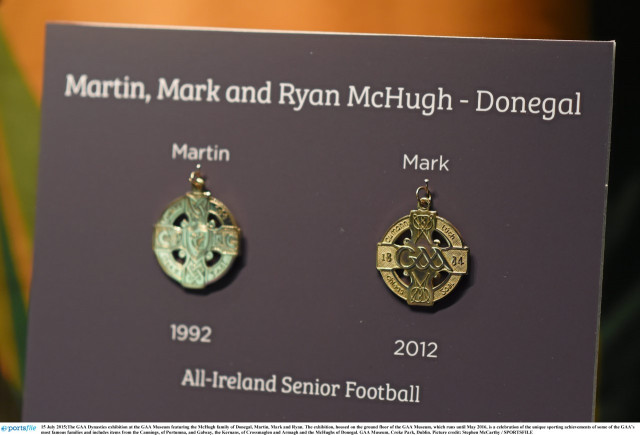 Ní furasta é bua na peile a chothú, agus tá an t-ádh ar Choláiste na Carraige go bhfuil foireann mhúinteoireachta acu atá lán chomh maith i mbun cóitseála agus atá siad i mbun teagasic. Tá taithí na mblianta ag Neily Byrne, Patrick McShane agus Damien Carr sa roinn seo. Tá Noel Ward, Patrick Boyle agus Gareth Doherty anois ag cuidiú leis na fir eile foirne na scoile a fhorbairt. Tá tacaíocht ar fáil ó Paddy Hegarty (CLG Dhún na nGall) maidir le cúrsaí cóitseála, chomh maith le hiar-dhaltaí a thagann chun na scoile lena saineolas a roinnt.
Nurturing such talent comes doesn't come easily, and Coláiste na Carraige have been blessed with a dedicated teaching staff who proved equally adept on the coaching front. Neily Byrne, Patrick McShane and Damien Carr have been actively involved in coaching and mentoring teams in the school for more years than they might care to remember. In recent times Noel Ward, Patrick Boyle and Gareth Doherty have also rolled up their sleeves and weighed in. Coaching assistance also comes in the form of Paddy Hegarty (Donegal GAA) as well as past pupils who regularly drop in to pass on their expertise.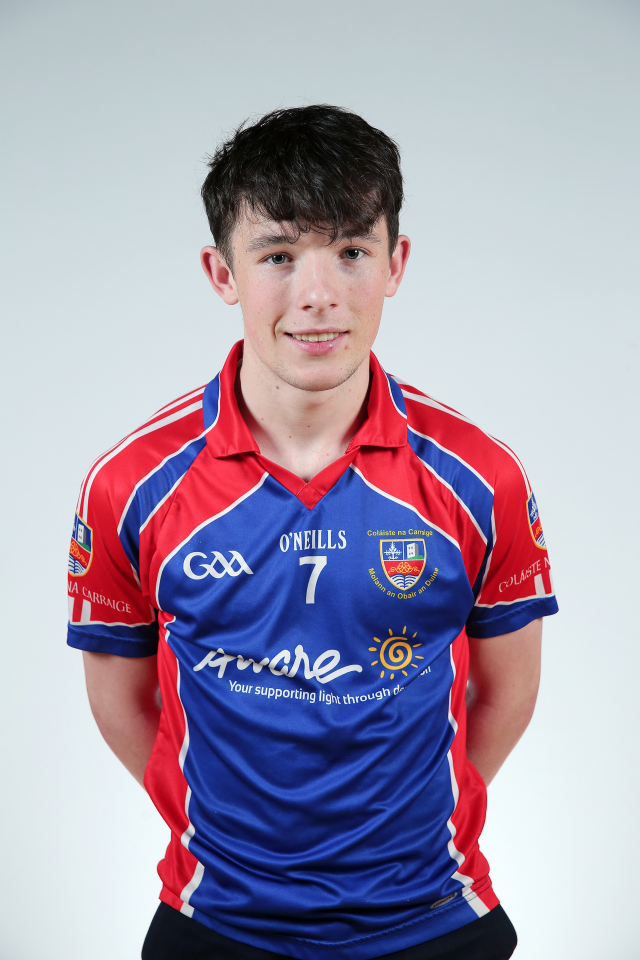 Tá an scoil páirteach sa 'Scéim Aitheantais mar Scoil Ghaeltachta.' Cuireadh tús leis an scéim seo in 2017, agus tacaíonn an scéim le scoileanna sa Ghaeltacht iomlán an churaclaim a theagasc trí mheán na Gaeilge. Is léir gur céim iontach é seo i bhforbairt na scoile, agus iad ag iarraidh dul i bhfeabhas taobh istigh agus taobh amuigh den seomra ranga.
In recent years the school has joined the 'Gaeltacht School Recognition Scheme'. Launched in April 2017, the scheme allows schools located in Gaeltacht areas to plan towards delivering the entire curriculum through the medium of Irish. This is yet another step forward in the development of Coláiste na Carraige, as they continue to strive for excellence both inside and outside the classroom.
Léiríonn Coláiste na Carraige ar dhóigh éifeachtach cad é a tharlaíonn nuair a mholann tú an óige. Tiocfaidh sí.