2021 O'Neill's Ulster GAA Coaching and Games Conference to take place online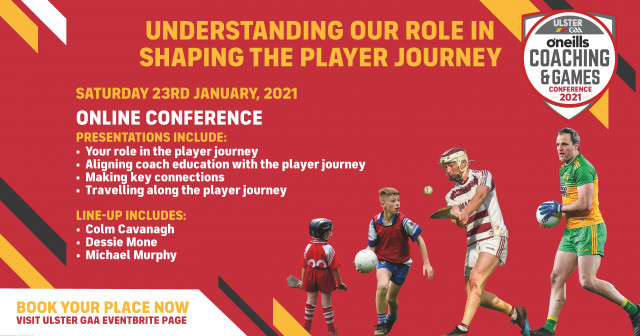 The 17th annual O'Neill's Ulster GAA Coaching and Games Conference will this year take place online on Saturday 23rd January.
In line with current COVID-19 guidelines the 2021 conference will be a virtual event, and an impressive line-up of speakers and presentations has been organised for what promises to be a valuable and informative day.
The theme for this year's conference is 'Understanding Our Role in Shaping The Player Journey', which is based around the principles of the 'FTEM framework' which outlines at each stage the specific requirements that supports the player, the game and the environment.
The FTEM Framework explores the smooth and supportive pathway of games programmes and education opportunities for the player, parent, teacher, club and county coach. Ultimately aims to place the needs of the player at the centre of the process.
The day begins with a 'Fireside Chat' facilitated by Tony Scullion, Ulster GAA Football Development Officer, on 'creating a positive coaching environment, how coaches create buy-in and buy into you', with speakers John McElholm (Coach & Post-Primary School Teacher), Mark Poland (Down Games Promotion Officer), Aaron Kyles (Donegal Games Development Manager)
A keynote presentation from Ulster GAA Director of Coaching and Games Development Dr Eugene Young and Ulster Schools' Garrett Coyle centres on 'Frameworks to structure our thinking and delivery: The Player, The Games, The Environment'.
Ulster GAA Coach Education Manager Roger Keenan, will be speaking about aligning coach education with the player's journey, flexibility and choice in coach education, and exploring the needs of coaches in the different stages of player development.
A presentation on 'Making Key Connections' will be delivered by Paul Kilgannon, coach and author of The CARVER Framework. This event will focus on areas such as 'The Winning vs The Developmental Mindset', and creating the right coaching culture in youth sport and a positive coaching mindset.
Finally, to close the afternoon's schedule, Benny Hurl will be joined by All-Ireland winning Donegal captain and Michael Murphy, former Tyrone All-Ireland winner Colm Cavanagh and former Monaghan Ulster title winner Dessie Mone for a half-hour panel discussion on their experiences of 'Travelling Along the Player's Journey'.
To book your place for the 2021 O'Neill's Ulster GAA Coaching and Games Conference, register on Eventbrite here: https://www.eventbrite.co.uk/e/oneills-ulster-gaa-coaching-games-development-conference-2021-tickets-131777450903
A registration fee of £5 will be donated to support Prostate Cancer Research at Ulster GAA's Charity Partner, the QUB Centre for Cancer Research and Cell Biology.