Seven Antrim stars selected on GAA/GPA 2020 Joe McDonagh Cup Team Of The Year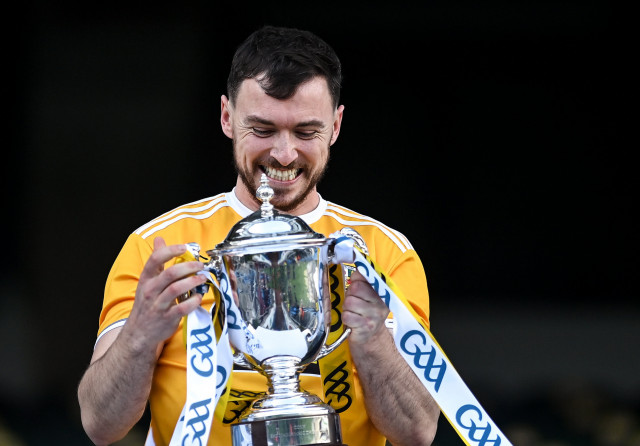 Antrim have had seven players honoured in the GAA/GPA 2020 Joe McDonagh Cup team of the year.
The champions are represented on every out-field line of the team after a terrific campaign that saw them go unbeaten in five matches, culminating in a hard-fought win over Kerry in a keenly contested final at Croke Park last December.
The Saffrons' full-forward and captain Conor McCann was also awarded as 2020 Joe McDonagh Cup Player of the Year in recognition of his excellent performances over the course of a campaign in which he scored 4-20 from play.
The selection process for the GAA/GPA 2020 Joe McDonagh Cup Champion 15 included player and coach feedback and was finalised by an independent selection committee of journalists and referees.
Uachtarán CLG, John Horan, praised all those who were honoured.
He said: "These awards give us an opportunity to salute the outstanding performers in what was an excellent Joe McDonagh Cup competition. My congratulations to all of those who have been selected and on behalf of the wider Association thank them for the effort they produced in such difficult circumstances in 2020."
GPA CEO, Paul Flynn, added: "Congratulations to the 15 players who have been selected for the Joe McDonagh Cup Team of the Year. Your performances marked you out as the best among many outstanding performers in 2020. Congratulations too, to Conor McCann on his fully merited awards. I also want to take this opportunity to thank all the players who competed in the Joe McDonagh Cup last year. The lift you helped give to your counties and to the country in very challenging times should not be forgotten."
A special programme to honour the GAA/GPA 2020 Joe McDonagh Team of the Year will be featured on RTÉ 2fm's Game On programme this Wednesday evening from 6pm.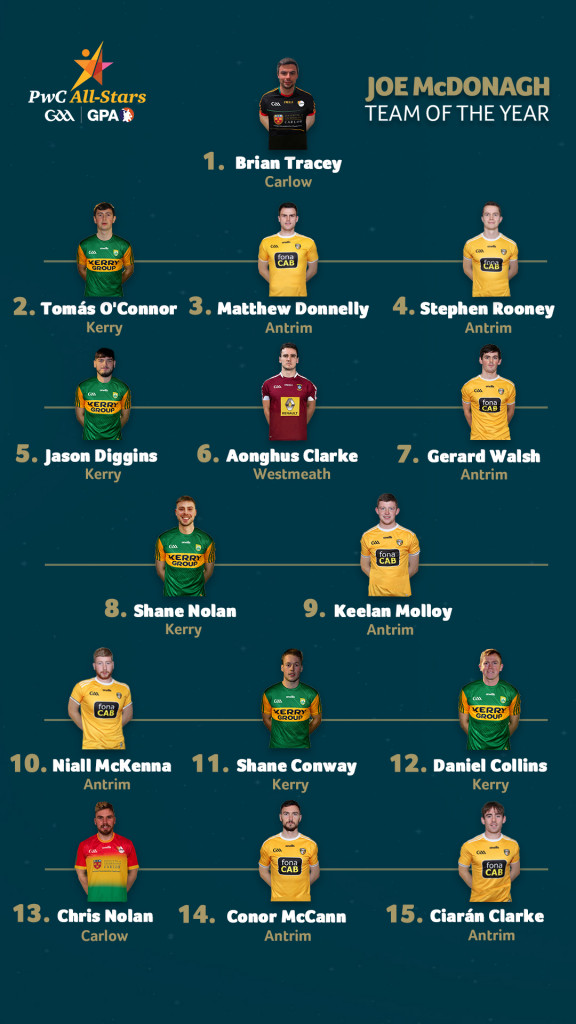 GAA/GPA 2020 Joe McDonagh Cup Player of the Year – Conor McCann (Antrim)
GAA/GPA 2020 Joe McDonagh Cup Team of the Year
1: Brian Tracey (Carlow)
2: Tomás O'Connor (Kerry)
3: Matthew Donnelly (Antrim)
4: Stephen Rooney (Antrim)
5: Jason Diggins (Kerry)
6: Aonghus Clarke (Westmeath)
7: Ger Walsh (Antrim)
8: Shane Nolan (Kerry)
9: Keelan Molloy (Antrim)
10: Niall McKenna (Antrim)
11: Shane Conway (Kerry)
12: Daniel Collins (Kerry)
13: Chris Nolan (Carlow)
14: Conor McCann (Antrim)
15: Ciaran Clarke (Antrim)