Ulster GAA launch Strategic Plan 2021-2023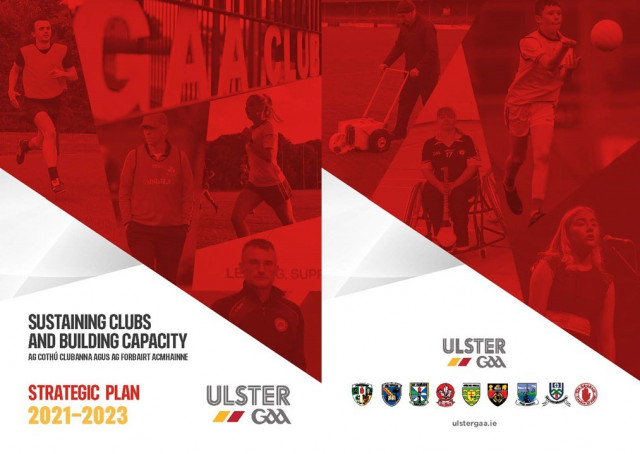 Ulster GAA has just launched its fifth Strategic Plan entitled 'Sustaining Clubs and Building Capacity – Ag Cothú Clubanna agus Ag Forbairt Acmhainne.
The document charts a strategic direction for the GAA in Ulster from 2021 – 2023.
Four high-level strategic themes, each with underlying objectives, have been identified by the Ulster GAA Strategic Planning Committee and these will form the core of operational activity areas in the province for the next three years.
The four key themes are:
Improving Opportunities for Participation and Performance in Gaelic Games
Supporting and Developing our Volunteers and Administrators
Governance and Operational Excellence
Communication and Wider Civic Engagement
Speaking at the launch of the plan, Ulster GAA President, Oliver Galligan said:  
"As we strive to move forward in this most challenging time, it is more important now than ever to safeguard and support our clubs, because as they prosper and grow so too does the Association at large. This plan is designed to sustain what we have achieved to date and support our clubs, as well as their members, to further develop capacity and work towards even more exciting and successful times ahead."
Chairperson, Ulster GAA Strategic Planning Committee, Professor David Hassan commented:
"Shaped by the principle 'the broader the base, the higher the peak' this strategy places our members and their clubs at the forefront of the further growth and development of the GAA in Ulster. Through equipping them with the skills and knowledge they require to lead our units, and reaffirming the crucial role they play in the continued vibrancy of the Association in the Province, we can look forward to further success for the GAA in Ulster in the time ahead."
The full strategy document is available to view at https://ulster.gaa.ie/council/strategic-plans/
For more information contact: Declan Woods, Ulster GAA Public Relations Officer: pro.ulster@gaa.ie