First club outside of Ulster achieves Club Maith accreditation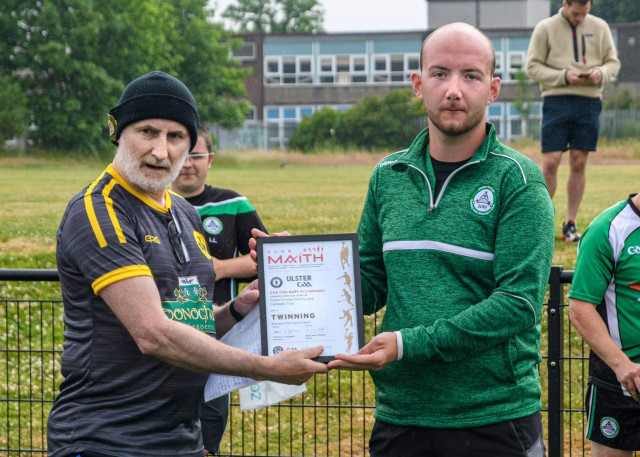 In May 2020 Ulster GAA launched a pilot Club Maith 'Twinning' Award for our associated clubs within the Provincial Council of Britain. Similar to the Club Maith accreditation open to all clubs in Ulster this award recognises best practice across 5 key areas of GAA club business:
·         Governance
·         Community Engagement
·         Coaching and Games
·         A Safe Environment
·         Safeguarding Members
Ceann Creige Hurling and Camogie Club based in Glasgow have become the first club outside of Ulster to achieve Club Maith accreditation with the attainment of the 'Twinning' Award.
Ulster GAA President Oliver Galligan praised the club for their achievement:
"I would like to congratulate Ceann Creige for leading the way in becoming the first club within Britain to gain Club Maith Status. A Club Maith award makes a clear, proven statement about the quality of a club, right across the board and it is evident from their submission that they are operating with proper structures in place which bodes well for their future development. Hopefully their achievement will encourage other clubs in England, Scotland and Wales to register their interest in the programme going forward."
Ceann Creige secretary Grace McBride commented:
"Participating in the Club Maith process was a logical decision, as this award allowed us to show the high governance and structures in place in our club whilst also providing the management committee the opportunity to ensure they knew all policies, even those out with their role too which helped with role continuity and succession planning. The club would like to place on record our thanks to Ulster GAA, Scotland GAA and our wider partners for their support in helping the club receive this certification."
Peter Mossey, Scotland GAA Chairperson, presented the club with their award on Saturday 3rd July and acknowledged:
"Within Scotland GAA, Ceann Creige are our most recently formed Club – and even before they took the field, they demonstrated their intent to be a progressive and a successful club in many different ways. Participation in Club Maith is just one of these – and is a clear statement to everyone that they mean business, that they set high standards and that if you are interested in Hurling or Camogie in Scotland you have a home, a very welcoming home and in an environment where you will be nurtured, respected and well looked after."
Peter Mossey also complimented Ulster GAA saying:
"Scotland GAA is extremely fortunate to be twinned to Ulster GAA as this relationship has been instrumental in developing our new County Board Strategic Plan which incorporates the development of new playing opportunities and also new playing facilities.  We thank Ulster Council for their proactive approach to this twinning relationship and the Club Maith scheme is yet another sign of their innovative and structured approach to ensuring that Gaelic Games represent the very best in sport and recreation and a safe and secure environment for everyone who wishes to get involved."
For any club in Britain interested in the Club Maith Twinning Award please email fionntan.odowd.ulster@gaa.ie for more information.