Ulster Junior Hurling Development League a resounding success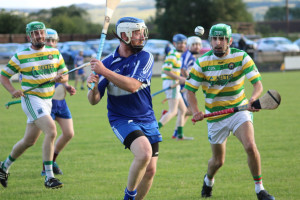 Led by National Hurling Development Manager, Martin Fogarty, the focus on hurling development in recent times has been centred on those 13 counties where so few hurling clubs exist that it is rightly being termed 'endangered'.
Following an Ulster Hurling meeting in January, Emmett Conlon, Fermanagh/Cavan Regional Hurling Development Officer (RHDO) and Kieran Farmer, Secretary, Fermanagh Hurling Committee, realising that two clubs in Fermanagh, Erne Gaels and South Fermanagh Gaels, were intending to compete at adult level, decided to see what the interest might be in competing in a regional development league. The response to their initial communications was huge and the Ulster Junior Development League was born.
Some 27 games, 147 goals and 500 points later, champions were crowned from Fermanagh, Monaghan, Tyrone and Donegal. Digging deeper, we learn some of the facts that pinpoint why the competition was so successful. Erne Gaels played hurling in their home, Páirc Na hÉirne, for the first time in over 20 years. South Fermanagh Gaels have now been established. Latton O'Rahilly's started the season with 15 players and have a panel of 21 for their final. Four Masters from Donegal town got all the way to the cup final to lose out to Lisbellaw St Patricks who fielded a junior squad of some of the old hands mixed with the up-and-coming youth. East Cavan Gaels carried their county colours with pride and the continual work in Cavan is visible to all, while Omagh St Enda's who have been working hard at all levels of hurling in recent years won the Shield to collect their first silverware since 1973.
Possibly the best story to come out of the league was Letterkenny Gaels. In this their 25th anniversary year, not only winning their first ever adult match after three years of competing at Junior level but going on a run to the Plate final against East Cavan Gaels which, after a pulsating game, the Donegal outfit just shaded 1-15 to 3-7. The management and players visited the home of Liam Emery (the club's co-founder) to see his widow Norma, and to ask her to hold the South Ulster Junior Hurling Plate on behalf of the club. For the Gaels, the impetus from the Ulster competition continued with their first ever Donegal Championship win. Truly a club on the rise!
Uachtarán CLG, Larry McCarthy, was on hand to present the winners of the Cup to Lisbellaw St Patrick's in Garvaghey. An tUachtarán said "I'm delighted to recognise all the competing clubs for making the first ever junior development league a success. We all want our National Games to flourish and this inaugural Ulster Junior League has certainly played a major role in doing so in Ulster. I look forward to seeing the league go from strength to strength over the coming years".
On the same night, National Hurling Development Manager, Martin Fogarty,  was in Clogher, County Tyrone, for the Shield final that saw Omagh St Enda's beat South Fermanagh Gaels. Martin said: "I visited Omagh St Enda's club a few years ago and at that stage they were doing great work at underage level and were hoping to field an adult team. As well, I have made several visits to Fermanagh and I have emphasised the great need to increase the number of adult teams."
Martin continued 'To witness here this evening two teams that have literally "risen from the ashes" absolutely delights me and I sincerely thank all who have contributed to making that happen. Travelling up from Kilkenny today I was expecting a pretty low standard of hurling and I expected to witness quite a number of players lacking the basic skills. That would be understandable with new players and fledgling teams. How wrong I was! I was amazed at the standard which is testimony to the players and their coaches. All the skills of the game were on display and from my vantage position as umpire, I did not notice a single player that looked "out of his depth". This is hurling development at it's best. Many thanks to Kieran and Emmett in particular for making it all happen."
Ciaran McLaughlin, Chair of the Ulster Hurling Committee, reflected on the competition saying 'When the proposed league was floated at an Ulster Hurling meeting, those present were very keen to support the idea. The competition has been a tremendous success in this inaugural year and hurling in Ulster is better off for it having been played. We look forward to 2022 with heightened excitement for an expanded competition".