Enhance your club's coaching structures with the Ulster GAA Club Support Programme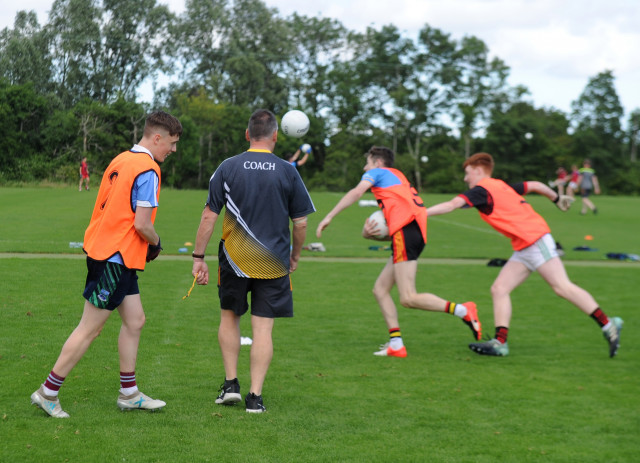 Ulster GAA is offering clubs a way to fine-tune their coaching structures to ensure they are not only better but also more sustainable, through its Club Support Programme.
One of the main aims of the programme is to develop self-sufficient and sustainable clubs from a coaching and games perspective. It is designed to assist clubs in developing and implementing a well-resourced club development model to help promote and progress coaching and games in the club.
Ulster GAA Provincial Club Coaching & Games Development Officer Garreth Thornton explains:
"The programme is bespoke to each club, as the dynamic and the needs of every club are going to be different – a 'one size fits all approach' won't work. Our staff will work closely with the club over a number of sessions after carrying out a coaching review to get a feel for where the club are currently at, and where they want to get to."
There are four areas in which the programme helps a club review its coaching structures:
Club/School Link – Do your club have one? Is it working? How are you measuring it?
Coach Development/Recruitment – Is your club recruiting new coaches/parents? Are you providing learning opportunities for your coaches to develop themselves?
Player Pathway/Development – Are coaches measuring what their players are doing? Are they doing the right things at the right time from an athletic, skills & games perspective? Are players having fun?
Coaching committee/officer – Does your club have one in place? Is it effective?
The main obstacle met by clubs when developing their coaching structures is getting coaches, parents and volunteers to give up of their time and buy-in.
"Everyone leads busy lives but without these people and an influx of new people every few years into the club how can you make your club sustainable," says Thornton.
"The key is to get people involved as early as possible through winter or nursery programmes and over time invest in them to upskill them through formal or informal coach education workshops."
One of the first things the Club Support Programme identifies with a club is if it's implementing a coaching committee and coaching officer, a vital starting point. A functioning coaching committee is responsible for the organisation and operation of the coaching and games that takes place in the club.
Thornton continues:
"As a Coaching & Games team, in Ulster GAA we have provided support to a lot of clubs throughout the Province and we feel we have left them in a better place from a coaching and games perspective.
"The clubs who benefit from this programme are the clubs with a strong coaching officer and committee who are dedicated to improving their structures. It takes a collective approach from everyone involved and a message I would regularly give to clubs is that change takes time and hard work, you are going to face obstacles but you have to keep working at it."
To get involved in the Club Support Programme, contact Garreth Thornton on garreth.thornton.ulster@gaa.ie.