Excitement building ahead of welcome return of Ulster Schools' GAA season
In March last year, Our Lady's & St Patrick's Knock was a cauldron of excitement as the senior football team prepared for their first ever Danske Bank MacLarnon Cup final.
However just a few days short of the St Patrick's Day showdown with St Pius X Magherafelt, Covid forced everyone into lockdown and the final never took place despite an attempt to reschedule it around this time last autumn.
Yesterday 19 months on from the last schools' GAA action, Ulster Schools' Council launched their programme for the year and Knock will feature in the Danske Bank MacRory Cup for the very first time, something that excites Frankie Wilson, the Sports' co-ordinator in the school.
"Last month we were approached by the Ulster Schools' Council and told that there was an opening for us if we wanted it in the MacRory. Liam McKenna and those who would be taking the team discussed the situation and we have gone for it.
"We might never get the chance again to play MacRory Cup but we are going to give it a real try. We are all well aware of the step up this will be for us, but our feeder clubs here in East Belfast have all taken huge strides in recent years and exposing their young players to MacRory Cup football will hopefully help to consolidate that improvement," reasons Wilson who is manager at Banbridge Town soccer club.
"We had a number of past pupils featuring with Carryduff in last year's Down final, Bredagh is also now a senior football club in Down, while St Brigid's are going well in Antrim.
"More than half that team that reached the MacLarnon final came through St Paul's Hollywood where our MacRory coach Paddy Flannagan is based and they too are coming through well in Intermediate football. And we have a few players from other clubs like Darragh Cross and the Belfast clubs.
"East Belfast GAA is only in its infancy and they use the school facilities here. We are looking forward to seeing them develop as a club and it might not be long until they too have a MacRory player in their ranks."
The last time that Our Lady's & St Patrick's tasted success in senior football was 15 years ago with a team that featured ex-Antrim and Cork footballer James Loughrey. That victory brought them into MacLarnon Cup football for the first time and steady progress at that level has been brought them to the top in recent years.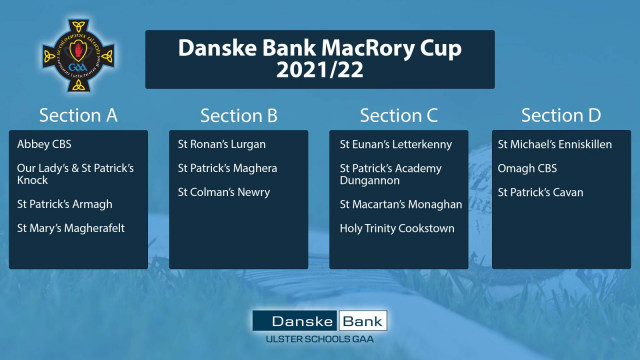 The school has also taken the decision to enter the Danske Bank Mageean Cup again which means that they and St Patrick's Maghera are the only schools playing at the top grade at senior level in both codes.
"We won the Casement Cup just before lockdown and moving up was the obvious next step," says Wilson. "We, as a school, have been in the Mageean in the past and some of our players actually won the title in 2018 with the amalgamated team of An Dún.
"I believe that we should always aspire to compete with the best at whatever sport we try. Our Head Boy Jarlath McCollum was a regular for Bredagh in the Down senior championship this year and we have a few others who were playing at the weekend in the Ballygalget v Ballycran game. So hopefully we can give a good account of ourselves."
Down GAA will have a second school in the Mageean Cup with St Patrick's Downpatrick returning to the top table in hurling. The Red High was one of just four schools that competed in the first ever Ulster schools' senior hurling competition in 1952.
They have appeared in the Mageean over the years, their last outing being a decade ago when they lost to St Patrick's Maghera by 2-11 to 2-9 in the semi-final. Maghera went on to win the All-Ireland title that year.
A new school in the Casement Cup is Coláiste Chomchille Ballyshannon, the first Donegal school to enter senior hurling, while Forthill Integrated from Lisburn further increase participation from that sector in football competitions and another new football entry is St Louise's Comprehensive after the Falls Road school's recent move to co-educational status.