Ulster Club Officer Training – 'Start off the year in the right direction'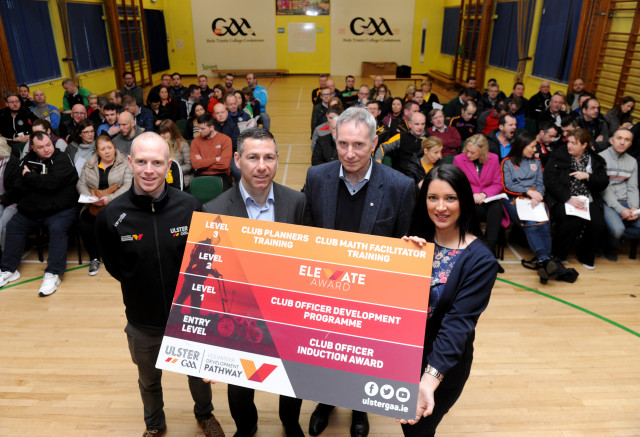 Ulster GAA has announced details for 2022 Club Officer Training set to take place in January for volunteers NEW to their roles as club officers.
This training is a must for all new club officers as it will provide essential information and role specific advice for the year ahead. Role specific training workshops are being offered for nine club officer roles including: Chairperson, Secretary, Treasurer, PRO, Children's Officer, Coaching Officer, Development Officer, Health and Wellbeing Officer and Cultural Officer.
All clubs across Ulster's nine countries are encouraged to have attendance at these training events, which are run in partnership with the GAA Leadership Programme and Ulster GAA's Volunteer Pathway. This training is also a requirement of Club Maith.
Club Officers play a vital role in our Association, leading local clubs and developing our games and culture. This training is designed to support club officers in their roles so that they can be the best they can be for the year ahead. All latest information and advice will be given by trained facilitators and Ulster GAA staff will be on hand to offer additional guidance, where necessary.
Due to the current uncertainty around Covid-19, all these training courses will be delivered online. This means clubs officers from across Ulster will be able to come together from the comfort of their own home to prepare for the coming year.
Ulster GAA President Oliver Galligan launching the schedule of training workshops said, "At the start of every year Ulster GAA provides essential training opportunities for club officers to ensure we have good capacity in our clubs and communities to deliver the programme of work, games and culture for the year ahead. In 2022 we will be throwing the ball in early with Club Officer Training workshops planned from 13th January onwards.
"Our club officers do tremendous work year on year but it can be daunting taking up a new role within your club. This training is designed with that in mind, to provide you with the necessary information and develop your skills to ensure you are well prepared in your club official role."
All clubs are encouraged to ensure they have attendance at this round of workshops. Full information including links for registration is available at www.ulster.gaa.ie/officertraining or by contacting Ulster GAA Volunteer Development & Policy Officer Sharon Haughey-Grimley by email at sharon.haughey.ulster@gaa.ie
This training is delivered in partnership with Croke Park's Club Leadership and Development Programme.
The schedule of workshops is as follows:
Thursday 13th January 2022, 7pm-9pm
Chairperson
Secretary
Treasurer
PRO
Wednesday 19th January, 7pm-9pm
Thursday 20th January 2022, 7pm-9pm
Coaching Officer
Cultural Officer
Thursday 26th January 2022, 7pm-9pm
Development Officer
Health & Wellbeing Officer
Registration is essential for all workshops by logging onto www.ulster.gaa.ie/officertraining