Recognition of Gaeilge efforts to be awarded to Ulster clubs for the first time in 2022
Tá CLG Uladh go mór faoi chomaoin ag na clubanna iontacha fud fad an chúige seo a dhéanann obair iontach ar son na teanga. Eagraítear ranganna, clubanna óige, feachtais ar na meáin shóisialta, seisiúin traenála agus cóitseála agus go leor eile nach iad trí mheán na Gaeilge.
Táimid eolach ar chuid mhaith den obair seo. Tá go leor oibre ag dul ar aghaidh nach bhfuil i mbéal an phobail, áfach, agus tá sé rí-thábhachtach go dtugtar aird ar na hiarrachtaí sin. Is as an bhearna sin a d'eascair coincheap an ghradaim seo. Ba mhaith linn deis a thabhairt do chlub amháin gach bliain aird a tharraingt orthu féin, agus a gcuid oibre ar son na Gaeilge a chur ar ár súile dúinn.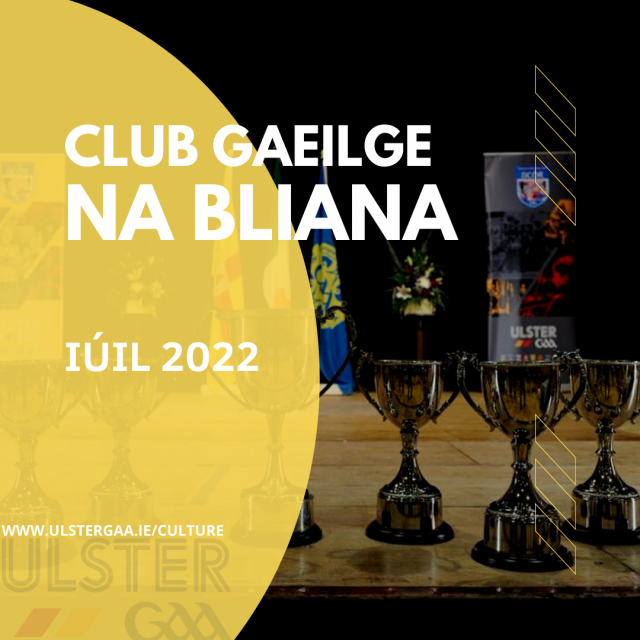 Tá fuinneamh ag na hoifigigh iontacha seo ar an talamh. Tá cruthaitheacht ar leith léirithe ag clubanna a dhéanann an teanga spraíúil do pháistí agus d'fhoghlaimeoirí, ach a chruthaíonn áit agus spás dóibh siúd a bhfuil an teanga ar a dtoil acu í a labhairt ar bhonn laethúil.
Tá clubanna ar leith sa chúige seo, agus fud fad na tíre dár ndóigh, ina bhfuil an Ghaeilge ag croílár an chlub, agus a bhfuil ardstádas tugtha don teanga, agus tá sé in am againne ag leibhéal an chúige gradam agus aitheantas a thabhairt do na clubanna agus do na hoifigigh sin a bhíonn ag obair go crua ar chur chun cinn na teanga ar dhóigheanna éagsúla.
Is fíor a rá fosta go dtugann an gradam seo deis do chlubanna atá ag tús an phróisis seo sprioc a thabhairt dóibh féin agus naisc a chruthú le clubanna eile a bhfuil barr a réime bainte amach acu maidir le cur chun cinn na Gaeilge. Tá spás do gach club ar an turas seo, agus tá fáilte rompu ar fad iad féin a ainmniú don ghradam.
Bronnfar an corn le linn an tsamhraidh 2022, agus beidh deis ag clubanna iad féin, nó club eile más maith leo, a ainmniú ar líne ag deireadh mhí na Bealtaine 2022.
Beidh clubanna in ann a n-iarrachtaí a mhíniú dúinn agus eolas a thabhairt ar na himeachtaí, ar na feachtais, agus ar dhul chun cinn ar bith atá déanta acu maidir le stádas na teanga sa chlub agus sa phobal le traidhfil blianta anuas. Bronnfar an corn gach bliain as seo amach.
Ulster clubs will be able to nominate themselves, or another Ulster club, for the first Club Gaeilge na Bliana accolade to be awarded in the summer of 2022. Nominations will open in May 2022. All clubs and all efforts are welcome to tell of their work to promote and include Gaeilge as an integral part of their club and community. We look forward to hearing about all of the amazing work taking place across Ulster, and we hope every club will take the opportunity to make their efforts known and heard.
Is féidir tuilleadh eolais a fháil ó tricia.nichearra,ulster@gaa.ie. Contact Tricia Ní Chearra for more information, or keep an eye out on the Gaeilge agus Cultúr microsite, and our social media channels for nominations opening!