2022 Scór na nÓg Final line-up confirmed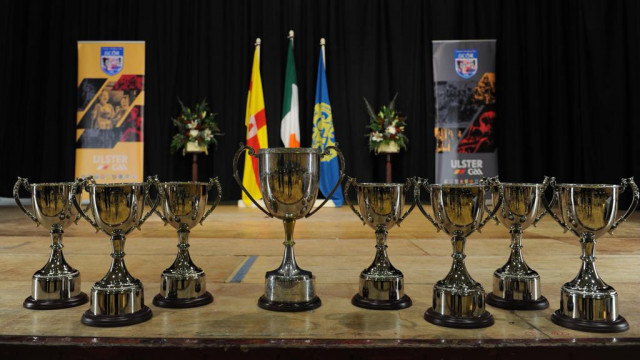 After excellent Scór na nÓg semi finals in Bessbrook and Banbridge across the weekend, the line-up for the Ulster Final has been confirmed.
Comhghairdeas leis na buaiteoirí, and to all who took part. The Ulster Scór na nÓg Final takes place on Saturday 2nd April at Silverbridge Harps GAC, Co. Armagh.
Below is the full Ulster Final line-up:
Rince Foirne:
Seamróga Ros Liath, Fear Manach
CLG Watty Graham, An Gleann, Doire
Naomh Éanna, An Ómaigh, Tír Eoghain
Naomh Muire, Achadh Gallan, Aontroim
Amhránaíocht Aonair:
Katie Nic Giolla Chomhail , Naomh Adhamhnán, Dún na nGall
Dearbhla Ní Mhearáin, CLG Chláirseacha Mhuineacháin
Niamh Noade, An Mullach Bán, Ard Mhacha
Cara Ní Shluain, An Ghlasdromainn, An Dún
Aithriseoireacht
Connie Ní Chorragáin, Gaeil Thriúcha, Muineachán
Saidhbh Ní Raghaillí, Mullach Odhráin, An Cabhán
Béibhinn Nic Uait, Baile Crann, An Dún
Cáit Nic Gafraidh, Aireagal Chiaráin, Tír Eoghain
Bailéad Ghrúpa:
Gleann an Iolair, Doire
CLG Chláirseacha Mhuineacháin
Naomh Treasa, Loch Mhic Ruairí, Tír Eoghain
Ciceam An Chreagáin, Aontroim
Nuachleas:
CLG Sheáin Mhic Cumhaill, Dún na nGall
Corr na Féinne, An Cabhán
Naomh Muire, Achadh Gallan, Aontroim
Naomh Pádraig, Coilleach Eanach, Ard Mhacha
Ceol Uirlise:
CLG Chláirseacha Mhuineacháin
Mullach Odhráin, An Cabhán
Ropairí na Madain, Ard Mhacha
Naomh Éanna, An Ómaigh, Tír Eoghain
Rince Seit:
CLG na Leacán, An Cabhán
Gleann an Iolair, Doire
Coill an Chlochair, Tír Eoghain