Young Armagh Gaels achieve prestigious Gaisce/Duke of Edinburgh Awards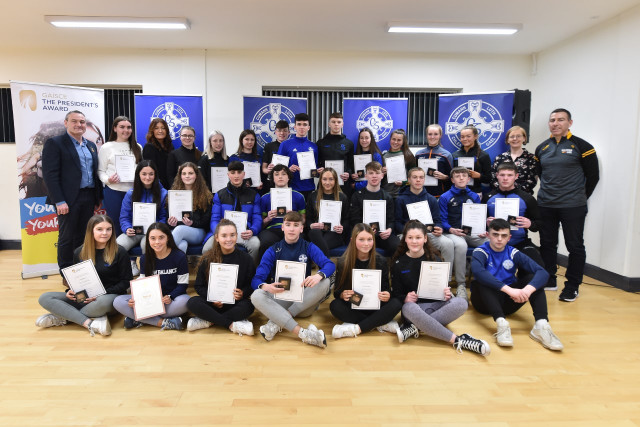 Ulster GAA has been involved in offering opportunities for young GAA club volunteers to complete the Gaisce – President's Award, or the Duke of Edinburgh Award through the 'Joint Award Initiative'.
Clan na Gael, Ard Mhacha, became the first GAA club in Ulster to successfully get a cohort of young people through this award, following a range of co-ordinated activities over the last nine months.
At a recent awards ceremony, Joint Award Bronze Certificates were presented to 36 young people in recognition for achieving the award. Each individual completed sections in Physical Activity (six months), Volunteering (three months), and Personal Skill Development (three months). Then in July 2021, the young volunteers completed a two-day canoeing expedition.
Congratulating the young Gaels and their club Clan na Gael, Ulster GAA President Ciaran McLaughlin said:
"Clan na Gael should be extremely proud to be the first Ulster Club to take a cohort of young Gaels through the Joint Award Initiative. The 36 young people have contributed greatly to their club over the last nine months through volunteering, playing and training in Gaelic Games, developing their skills and working together as part of a two-day expedition. This programme has helped the young people develop essential skills and knowledge that will help them in their futures and also benefit the club building capacity among young volunteers.
"I encourage other GAA clubs across Ulster to follow suit and get involved in the Joint Award Initiative. The young people can select which award they would prefer, either Gaisce – the President's Award or Duke of Edinburgh Award. Both are highly prestigious awards and helps to set apart young people from their peers in applications for university or jobs."
Diarmaid Marsden, who co-ordinated this initiative within Clan na Gael stated:
"The young people really did have a fantastic time completing this award programme. It also helped with personal development which is key to this age group as they are beginning to make decisions for their future. It has been a very positive initiative for our club and provides a meaningful way to involve young people both volunteering and enjoying playing our games. Well done to all the young people who have successfully completed this programme, we are extremely proud of you and hope you will continue to play a full and important part in our club."
Boys and girls aged 14-19, and their parents, were in attendance to receive their bronze certificates and badges from Ulster GAA President Ciaran McLaughlin. Also assisting with the presentation of awards were representatives from Duke of Edinburgh (Julie McGimpsey) and Gaisce (Mary Yore).
The club has benefitted enormously from the volunteer input of its young members and it is hoped that many of the young volunteers will use this as springboard for future volunteering within the club and wider GAA family.
Any young volunteer or club interested in hearing more about the joint award please contact Ashelene Groogan at  ashelene.groogan.ulster@gaa.ie.