2022 Electric Ireland Ulster Minor Football Championship commences this weekend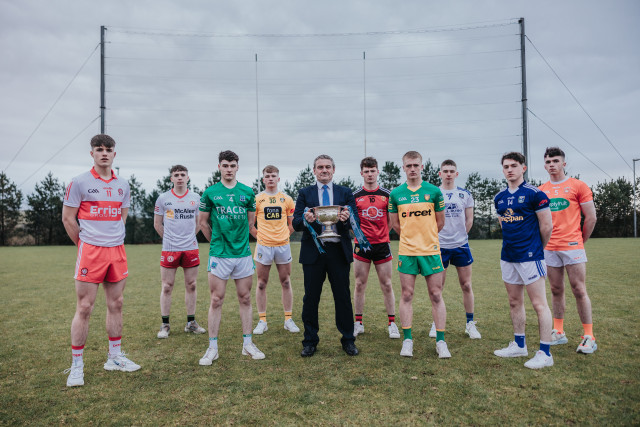 The 2022 Electric Ireland Ulster Minor Football Championship was launched this week at Tyrone GAA Centre of Excellence, Garvaghy.
The competition gets underway this Saturday as Fermanagh host Down at Brewster Park in the preliminary round, a curtain-raiser to the Ulster Senior Championship opener between Fermanagh and Tyrone.
The action gets into full swing next weekend with four round one games in store, with Antrim travelling to take on Monaghan at Inniskeen on Friday evening. On Saturday afternoon, Armagh host Derry at the Athletic Grounds, while Donegal await the winners of this weekend's opening tie, before reigning champions Tyrone begin the defence of their title against Cavan in Omagh at 6pm.
A full list of upcoming fixtures are below, and information on the competition and tickets can be found at ulster.gaa.ie/ulsterchampionship2022/minor-football.
2022 Electric Ireland Ulster Minor Football Championship
Preliminary Round – 16th April 2022 (4.15pm)
(a) Fear Manach V An Dún at Brewster Park
Round 1 – 23rd April 2022 (except where listed)
(c) Muineachán V Aontroim at Inniskeen (22nd April 2022 8.00pm)
(b) Tír Eoghain V An Cabhán at O'Neill's Healy Park Omagh (6.00pm)
(d) Ard Mhacha V Doire at Athletic Grounds (5.30pm)
(e) Dún na nGall V Fear Manach / An Dún at TBC* (4.00pm)
*If Dún na nGall V Fear Manach, at Ballybofey; If An Dún V Dún na nGall, at Páirc Esler
Qualifiers Round 1 – 30th April 2022
(Losers of (a), (b), (c), (d) and (e)
*Should the winners of (a) lose in (e), they will be excluded from this round)
(1) Team A V Team B (loser eliminated)
Round 2 – 7th May 2022
(Winners of (b), (c), (d) and (e) in an open draw)
(1) Team A V Team B
(2) Team C V Team D
Qualifiers Round 2 – 7th May 2022
(Remaining three losers not drawn in Qualifier Round 1, plus Qualifier Round 1 winner)
(1) Team A V Team B (loser eliminated)
(2) Team C V Team D (loser eliminated)
Qualifiers Round 3 – 14th May 2022
(Two Round 2 losers V two Qualifiers Round 2 winners)
(1) Team A V Team B (loser eliminated)
(2) Team C V Team D (loser eliminated)
Semi Finals – 21st May 2022
(Two Round 2 winners V two Qualifiers Round 3 winners)
(1) Team A V Team B (loser eliminated)
(2) Team C V Team D (loser eliminated)
Final – 28th/29th May 2022
Team A V Team B
*All-Ireland Quarter Finals on 11th June 2022